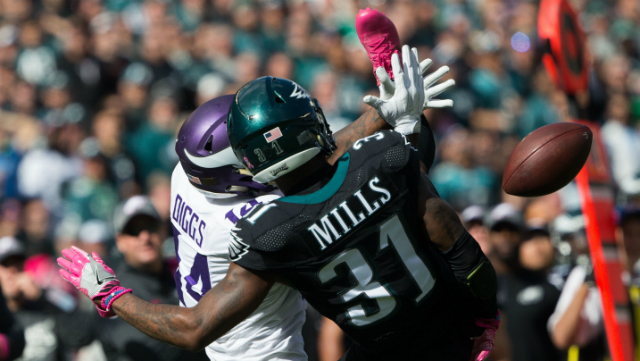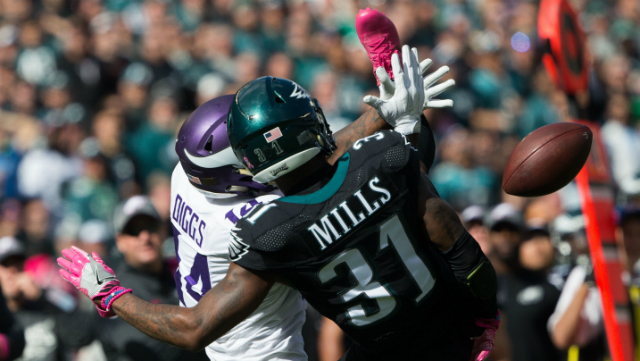 One of the biggest surprises for the Eagles has been the play of second-year cornerback, Jalen Mills.  He was drafted in the seventh round in the 2016 draft.  He came in with a spotted resume because he had gotten in some trouble off the field while at LSU.
Mills came in with confidence, but he didn't have the big time speed needed to be a top cornerback.  He had a tough rookie season and was beaten numerous times for big plays, but he continued to battle.  His confidence never fluctuated.  It didn't matter how many times he was beaten, Mills would be ready to go on the next play with a self-confidence that he was going to succeed.
The youngster has been the starting left cornerback all season-long, but this year he has learned how to play the game with his mind.  Veteran safeties Malcolm Jenkins and Rodney McLeod have tutored Mills and taught him how to anticipate what the opposing offense is going to do from play to play.
From this help, Mills has learned to study the tendencies of opposing offenses.  He now knows they all plays they like to run in certain down and distance situations.  All offensive coordinator have a personality.  They like to run certain plays at certain times depending on the down and distance.   Formations will also add information that let you predict what play they're going to run.  Mills has learned to play the NFL game with his mind and it's taken his game to an entirely different level.