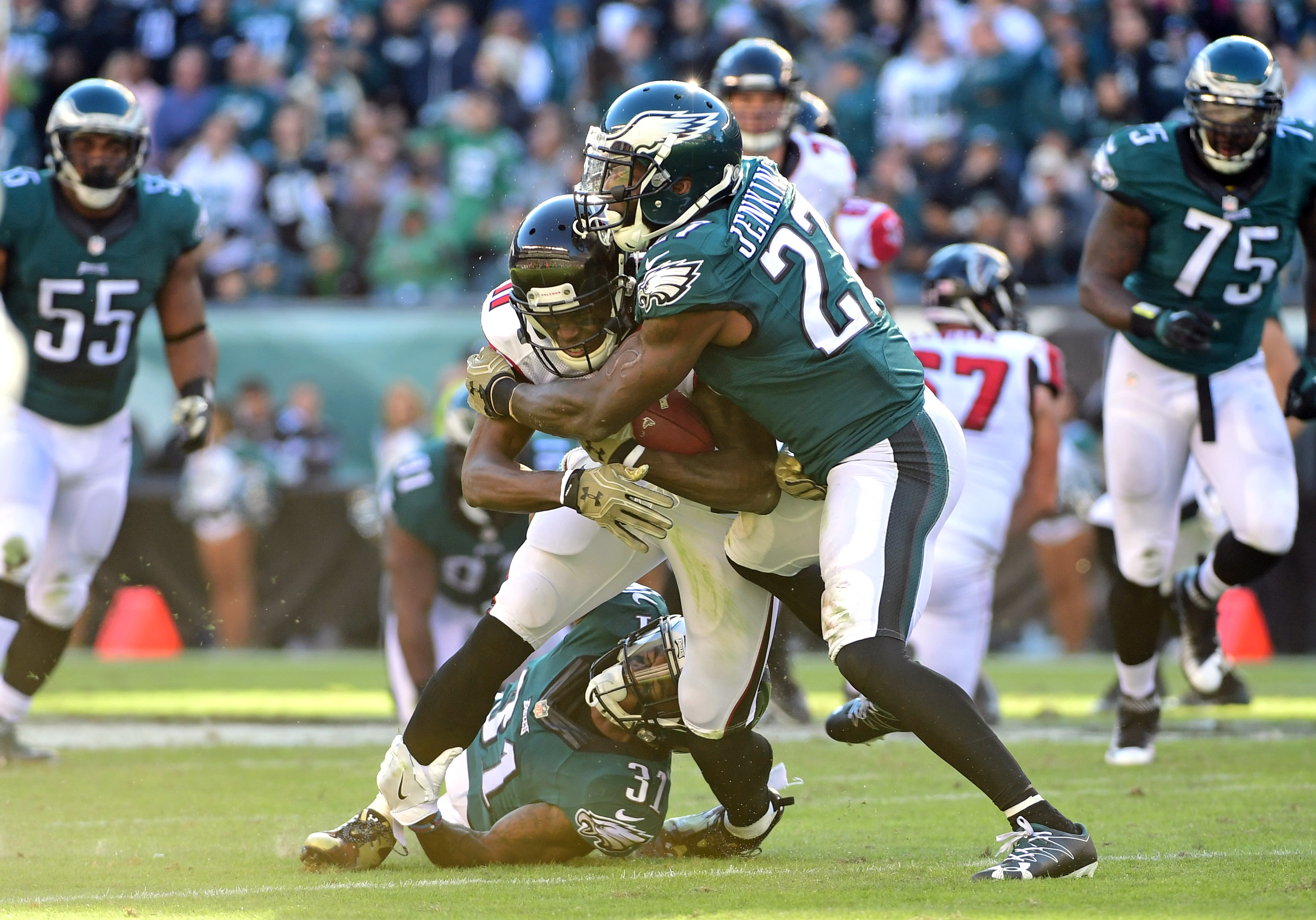 Nov 13, 2016; Philadelphia, PA, USA; Atlanta Falcons wide receiver Julio Jones (11) is tackled by Philadelphia Eagles strong safety Malcolm Jenkins (27) during the second quarter at Lincoln Financial Field. The Eagles defeated the Falcons, 24-15. Mandatory Credit: Eric Hartline-USA TODAY Sports
The Eagles defense will have their work cut out for them on Sunday at Super Bowl LII as they attempt to outplay the great Tom Brady, and his New England Patriots.
First of all, it's imperative that this defense be ready to focus their efforts and compete with every ounce of energy they have until the clock reads 00:00 at the end of the second half.  Eagles defensive coordinator Jim Schwartz and the Birds defensive coaching staff need to be ready to adjust during the game because Bill Belichick and the Patriots staff may be the very best in the history of the sport at making adjustments during the contest.
For instance, if the Birds are doing a good job of defensing Pro Bowl tight end Rob Gronkowski in the first half, the Patriots will make changes at halftime, by running picks plays for him or moving him to different positions in the formations to help him get open.  They may decide to put him in motion or have him start out lined up in the backfield.  Regardless, they will make adjustments.
The Pats are very ingenious at running coordinated routes against zones where they put a defender in a situation where he can't be right.  They'll send two receivers to that area of the field with one at 10 yards in depth and the other at 15 or 20 yards depth. Eagles defenders must be  ready to give help to their teammates because New England will flood a zone with multiple receivers, once they know you're in  a zone coverage.
They attack man-to-man coverages with bunch formations, play action fakes and pick plays.
You'll see Brady have a running back or slot receiver move from one side of the formation to the other, just to see if the defense is playing zone or man-to-man.
The Patriots are going to try to exploit the matchups between their speedy and quick running backs Dion Lewis and James White versus Eagles linebackers Nigel Bradham and Mychal Kendricks.   Both of the Eagles defenders are good coverage backers, but the Patriots running backs are outstanding pass receivers, so you know these are going to be key battles and an important part of the Patriots passing game plan. I would advise the backers to get physical with the undersized backs each time they get the chance to hit them.  The physical pounding will gradually slow them down.
It's nearly impossible to find a perfect matchup against Gronkowski, but I expect the Birds to give safety Malcolm Jenkins the primary job of covering Gronk, when the Eagles are in man-to-man coverages. I think they need to double team him at times, and also let the Birds backers, Bradham or Kendricks matchup with him on occasion.  He's going to catch some passes, but they must battle him and contest every pass.
The Patriots wide receivers are more quick than they are fast. The two burners they have in the group are Brandin Cooks and Phillip Dorsett.   The rest of them, Chris Hogan, Danny Amendola and Kenny Britt are more possession receivers. The Birds linebackers and secondary must tackle well in the open field. It means wrapping up each ball carrier and pounding them each chance they get.
Every time the Birds cornerbacks, Jalen Mills, Ronald Darby or Patrick Robinson line up on Cooks, they 've got to be thinking of him going deep, especially if they're in a coverage where neither Rodney McLeod nor Jenkins is backing them up. I also expect the Pats to run a couple of double-move routes because both Mills and Darby have been beaten by them. The Birds can't afford to give up any long touchdown plays to the Patriots. They must make Brady and company work for everything they get.