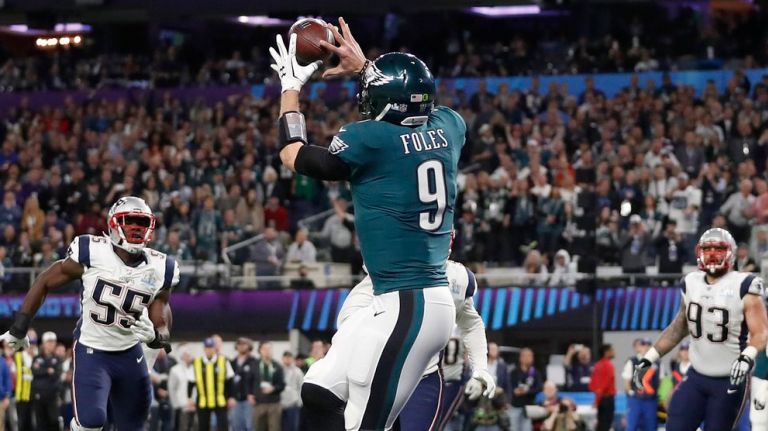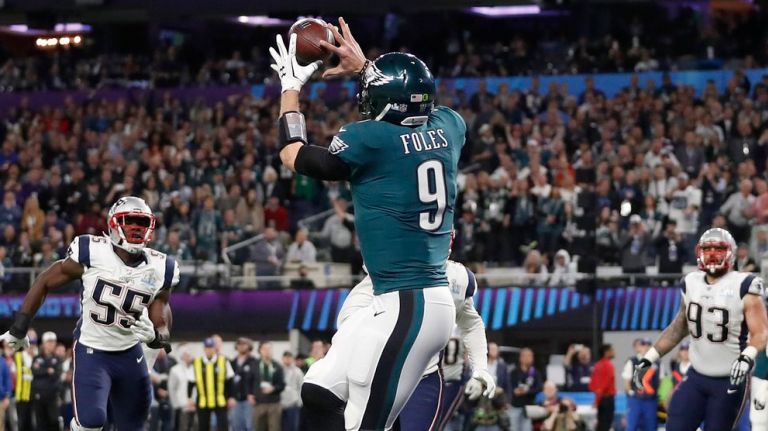 Victory! A Championship Worth Waiting For
You certainly couldn't ask for a Super Bowl Championship in a grander fashion than what the Eagles delivered on Sunday night.
A shootout with five-time Super Bowl Champ Tom Brady? A game that went back and worth and went right down to the wire? A fourth and goal touchdown pass from a backup tight end to the backup quarterback?
Doug Pederson, who began the season having to listen to certain writers describe him as the most unqualified coach in NFL history, and reports that defensive coordinator Jim Schwartz was looking to usurp his position.
Doug guided the Eagles franchise to do something it had never done before. His playcalling was absolutely masterful in the post season, and the Super Bowl was no exception.
Pederson had his trademark aggressiveness on display on Sunday night. The fourth and goal call to throw a touchdown pass to Nick Foles may be the one moment from this season that will forever be burned into my memory.
Not only was it a critical call to give the Eagles a 10-point lead going into the half, but it was an absolutely epic shot a Belichick and Brady, who failed to execute almost the identical play earlier in the quarter.
Doug Pederson wasn't a popular hire when he got the job. But he's now buried and obliterated the fear that he was simply here to be a puppet and Andy Reid-lite. He's proven be a true leader, and an elite playcaller.
Nick Foles Shines As Super Bowl MVP
Nick Foles will go down with one of the most unusual careers you'll ever see.
A guy who seriously considered retirement after his career was nearly ruined by Jeff Fisher comes back to the team that originally drafted him, spends most of the year on the bench, and winds up guiding the team through the playoffs with three performances that will likely get him another chance to be a starting quarterback somewhere.
Foles looked comfortable and confident in the Super Bowl, delivering some absolutely picture-perfect passes on his was to throwing for over 370 yards and three touchdowns.
Some of the throws Foles made were just jaw dropping. Among his best moments were threading the ball between two Patriot defenders to Nelson Agholor, floating the ball to hit Corey Clement in stride for a big gain, and delivering touchdown strikes to Alshon Jeffery and Clement.
Imagine next season, Carson Wentz, a franchise quarterback and MVP candidate, backed up by Foles, a Super Bowl MVP who has a career post season quarterback rating of over 100.
On a night where the Eagles' defense could do very little to slow the opposing offense down, Foles needed to produce points on nearly every drive in order for the team to have a chance of winning, and number 9 delivered, big time.
Foles has secured his spot as an Eagles legend.
Quick Thoughts
Offense
Think LeGarrette Blount was ready for this game? Blount picked up 90 yard on 14 carries against the team that cast him aside, scoring a touchdown and ripping off a 36-yard run early in the game that set up another score. Blount was such an impactful addition to this team, here's to hoping the Eagles considering giving him another go round next year.
Corey Clement picked up 100 yards on four receptions, including his key touchdown in the third quarter. Remember when it was a debate whether or not the Eagles would keep Clement or Donnell Pumphrey out of the preseason?
Nelson Agholor has become one of the best bounce-back stories in Eagles' history. Agholor was left for dead by many (myself included) at the end of last season, and now he had nine catches for 84 yards in the Super Bowl.
Torrey Smith was frustrating at times this season, but Doug Pederson never gave up on trying to work him into the offense, and it really paid off in the post season. Smith had a huge hand in the win over the Vikings, and also chipped in five catches for 49 yards in the Super Bowl.
Zach Ertz finished his breakout year with seven catches for 67 yards, and the go-ahead touchdown in the fourth quarter.
By the way, how laughable/disgusting was it that Ertz's catch was under review for as long as it was?
Halapoulivaati Vaitai finished off an impressive post season with another solid performance in the Super Bowl. He had some large shoes to fill when Jason Peters went down, but he really came on down the stretch.
Defense
Jim Schwartz's group really got torn apart in this game, getting shredded for over 600 yards by the New England offense. They offered very little resistance, and were burned by the deep ball consistently. They allowed Tom Brady to throw for over 500 yards, and allowed three different 100 yard receivers.
However, the defense still dished out some key plays that helped swing the game.
Malcolm Jenkins' hit on Brandin Cooks is another image that's forever burned into my memory. The hit, completely clean and legal, took the Pats' top wideout out of the game early on.
Rodney McLeod's pile-driving tackle on third down was such a key moment in the game. Forcing New England to settle for a field goal attempt instead of scoring a touchdown was a key moment.
Last but not least Brandon Graham was the only Eagle to get to Tom Brady on the night, and he sure made it count, forcing the Eagles' only turnover that helped seal the win.
Special Teams
Jake Elliot, drilled all three of his field goal attempts, and in true Jake Elliot fashion, missed an extra point.
Final Thoughts
It's so hard to find the right words to really put this title into perspective.
As Eagle fans, we've all been through so much to get this point. Along the way, we've debated and bickered about everything from who the head coach should be, to whether or not certain guys were the answer at quarterback, to whether or not Howie Roseman could really build a Super Bowl winner.
But now, regardless of whether we've been right or wrong in the past, the goal has finally been reached. We can all come together and celebrate!
The 2017-18 Eagles will forever be remembered as a team that overcame so much and kept fighting. When key players went down, there was always someone to step up and carry on at a high level.
A season that began in Philadelphia with the 2017 NFL Draft will now come to a close with a parade, the likes of which the sporting world has never seen before.