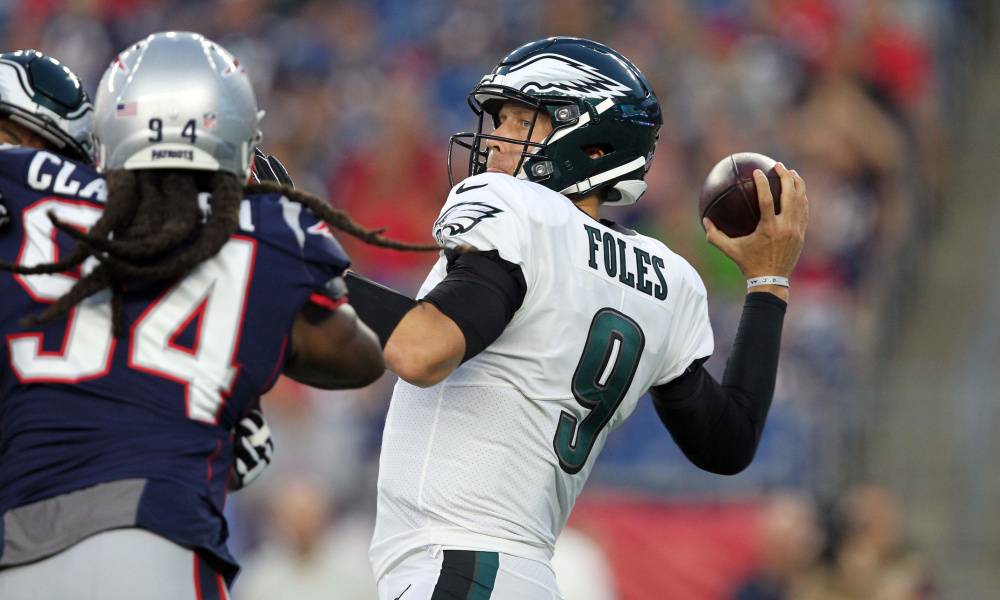 Bad Football On Full Display In Foxboro
The Philadelphia Eagles turned in a pretty ugly showing in Thursday's exhibition match against the Super Bowl runner-up New England Patriots.
Nick Foles and the first-team offense couldn't move the football, while Tom Brady played almost an entire half and shredded the first-team defense.
Any overreaction to this game is just foolishness. With no real gameplanning and several key pieces continuing to sit out of action, preseason results can be written off and ignored.
The preseason matters in terms of shaping the roster and individual player development. It's a perfect time for guys to struggle so that the coaching staff can clean things up and wipe out problems now before the games count.
In the meantime, individual efforts by guys like Nate Sudfeld and Shelton Gibson, and failures of guys like Matt Jones are what should be taken away from August football.
Quick Thoughts
Offense
Rough night for Nick Foles, who went just 3-9 for 44 yards. Foles was constantly under pressure, as the offensive line was unable to protect him, and the makeshift group of wide receivers that featured future final cutdowns Bryce Treggs and Kamar Aiken in the lineup did Foles no favors by dropping passes.
Nate Sudfeld entered in the second quarter, and played a strong game, throwing for over 300 yards and three touchdowns. Sudfeld flashed a bit against the Steelers, but in this game we got a much better sense of why the Eagles are so high on him. Sudfeld has the mobility and the deep ball to succeed in this league, he's just got to get more experience in game situations.
No one gained any ground in the fourth running back battle. Josh Adams and Donnel Pumphrey sat out with injuries, while Wendell Smallwood and Matt Jones botched their opportunities.
Smallwood gained just one yard on four carries.
Jones was a complete disaster, rushing for 19 yards on six carries, but also dropping three passes, one of which he tipped into the arms of a New England defender.
Shelton Gibson looks like the most improved player on the Eagles' roster. Gibson hauled in five passes for 90 yards and a touchdown, and even provided a spark in the return game. Gibson could add another layer to this offense if he can bring that deep threat to the regular season.
Another solid night for Dallas Goedert, who caught three passes for 57 yards, and might have had a touchdown if not for a solid play by a New England defender to break up a pass.
I liked what I saw from DeAndre Carter, who caught three passes for 48 yards. No room for him on the 53-man roster, but he's a practice squad candidate.
Rough night for Big V, who was pushed around the whole night.
The NFL's new helmet rule is the worst thing that the league has done in years.