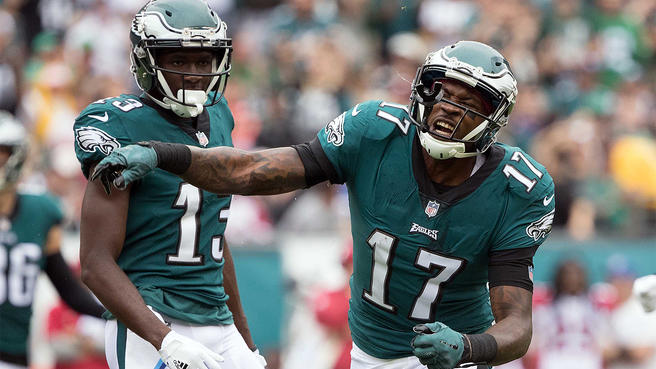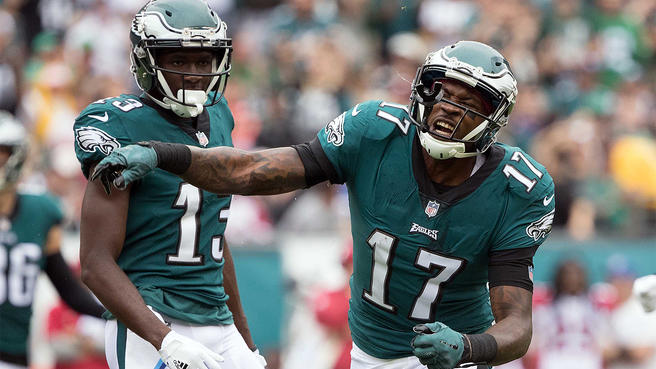 The Eagles have two games remaining in the preseason, but they really have only one game left to prepare their first string players for the upcoming season.  I'm concerned about the fact that the Eagles quarterbacks especially, Carson Wentz and Nick Foles, haven't had a lot of work with their top receivers.
Alshon Jeffery, who is still recovering from rotator cuff surgery, has been sidelined throughout the entire training camp.  He has started working on the side with trainers, but we all know he's probably not going to be available for the season's first game.  Jeffery, who played much of the 2017 season with a rotator cuff tear, is a valuable target that will be missing at the start of the season, so that puts more pressure on the other receivers to do more.
The Eagles top slot receiver Nelson Agholor has been out for a week with a lower body injury.  Agholor got a lot of work with the quarterbacks early in training camp, but he hasn't done anything in the preseason games.  I'm not concerned about Agholor because he's been working with Wentz and Foles for years and I think he will be ready to play when the season starts.
The newly acquired veteran wide out Mike Wallace has shown all of us that he has the speed to get deep, but he's struggled catching the football consistently.  The former Ravens speedster stretches the field Wallace hasn't enjoyed any success yet in the preseason games, but he'll probably going to get the chance to change that on Thursday night against the Cleveland Browns.  I would like to see him catch a few passes vs. the Browns, so he establishes some success with one of the quarterbacks.
I think a larger amount of the Eagles passing game at the beginning of the season, is going to need to come from receivers other than their wideouts.  Pass catchers like Zach Ertz, Dallas Goedert and running back Darren Sproles are going to need to carry more of the load.  I think Wentz or Foles will need to throw underneath to their tight ends and running backs to off set the injuries to their wide receivers.