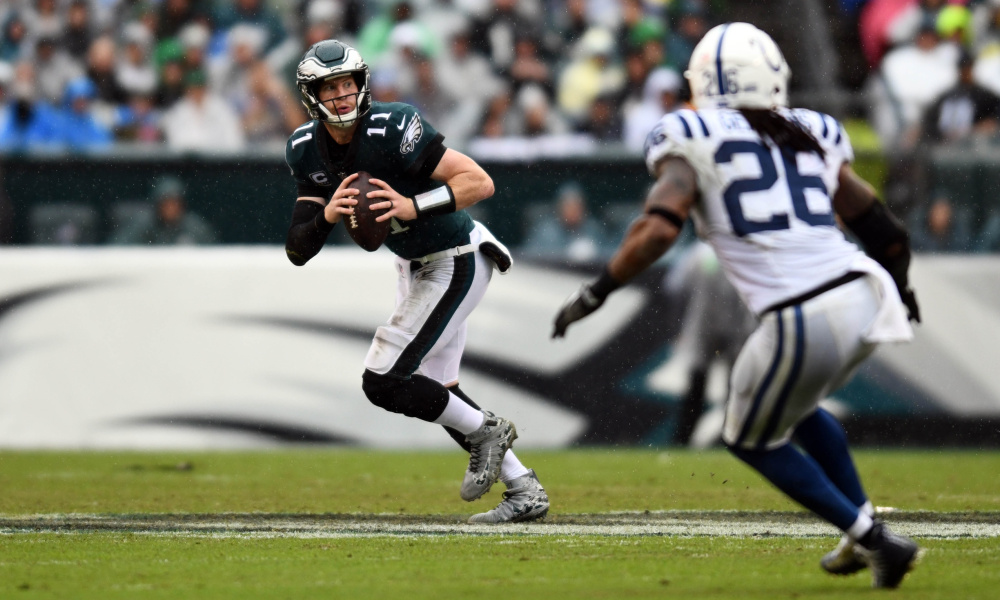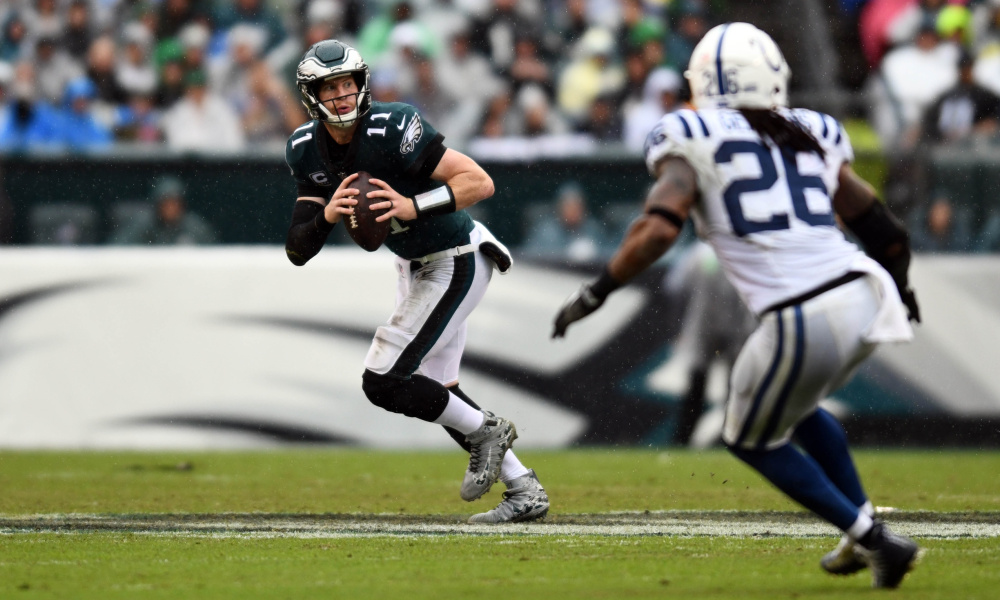 This 2019-20 Eagles football team is one of the deepest and most talented Birds team I've ever seen.  Let me make it plain. They have the talent to win another Super Bowl. The depth and talent on the offensive side of the ball jumps out at you.  This team isn't perfect, but I can't help but be excited about the possibilities this team brings to the table.  The outstanding and deep offensive line gets your attention then you can't help but be impressed with the abundance of weapons.  They can pound the ball inside and they get outside around the corner. They can beat you throwing the ball short, or downfield with intermediate shots or they can go up top with deep throws.  They are going to be very tough to stop.  Defensively, they are talented upfront at the defensive tackle position and in the secondary, but they're going to need their defensive ends to step up.
Here's a look at what I believe will be the final 53 man roster:
QB:  Carson Wentz, Nate Sudfeld, Clayton Thorson (3) It's ironic that after talking about the tremendous talent and depth on this football team, that I would have to talk about the one position where they aren't as deep as they were the last two years. With no Nick Foles on the roster, the inexperienced Sudfeld will now be asked to run the offense, if something happens to Wentz.  Neither I nor the Eagles have any idea whether Sudfeld can get the job done under the national pressure and versus NFL talent and competition.  Of course, Wentz has to stay healthy this year, so we don't have to find out.  Veteran Cody Kessler has been unimpressive.  Although, he's a good athlete, he's very small in stature and has a weak arm. I think they'll keep the rookie Thorson, around.
Offensive Line: Jason Peters, Isaac Seumalo, Jason Kelce, Brandon Brooks, Lane Johnson, Stefan Wisniewski, Halapoulivaati Vaitai, Andre Dillard, Jordan Mailata,  Matt Pryor, (10)  This is a very deep and talented offensive line.  You have Kelce, Brooks and Johnson, who are considered amongst the very best at their positions.  I will be interested in seeing how quickly Brooks returns to the lineup and whether the Eagles stay with Vaitai at right guard until he does.  Peters will be the other guy, I'll be watching.  Can he stay healthy and on the field?   If he can't, we'll see if the Birds put Vaitai or Dillard in tbere for him.  The potential of the youngsters could make this group even better than it has been.  I'll be watching the preseason games very closely to see where Vaitai, Dillard, Mailata, and Pryor are in their development.  If they're as far along as I think they are, they will be ready for any injuries to get the opportunity to show what they can do.
TE:  Zach Ertz, Dallas Goedert, Richard Rogers, (3) One of the most impressive players at the Eagles off season workouts was Goedert.  He's another talented athlete, who is going to be very tough for opposing defenses to match up against.  You're adding him to a team with a tight end in Ertz, who nobody was able to cover last season.   Ertz and Goddert are going to keep a lot of defensive coordinators up all night.  I'll be interested in seeing  if the Eagles keep three or four tight ends on the roster.  I think this is the most talented group of tight ends in the NFL.   Rogers and Josh Perkins will be battling for a roster spot, which ever player is released will likely be picked up by another team.
RB:  Jordan Howard, Miles Sanders, Corey Clement, Darren Sproles (4) We have a big physical inside running back in Howard. He will make the Eagles a physical running team, which Pederson likes paired with his passing game.  Howard will pick up the first down on 3rd and short.  He will get extra yard on first and second down.  When the line blocks well enough for a three yard gain, he will get four.  Howard's presence in the Eagles backfield will make teams respect and defend their running game.   Sanders is very talented but he has a lot of work to do because he missed so much of the offseason work.  He will be asked to get outside and make plays in the open field. Clement and Sproles will both contribute on third downs on screens, draws and options routes.  Sproles will be the team's number one punt returner.
WR – Alshon Jeffery, DeSean Jackson, Nelson Agholor, J.J. Arcega-Whiteside, Mack Hollins, Marken Michel (6)  I love the fact that each Eagles wide receiver has a different set of skills to bring to this offense.  The speed of Jackson forces defensive secondaries to make sure they're ready for him going deep, so they can't double any of the other receivers.  That will make defenses vulnerable to Jeffery, Agholor and the tight ends working underneath.  Jeffery brings his tremendous catch radius and Agholor has his outstanding combination of quickness and speed.  Arcega-Whiteside, the great leaper will be utilized in the red zone, when the Eagles go to their "Above the Rim" attack with 6'4″ Jeffery, 6'5″ Ertz, and 6'5″ Goedert..  Hollins and Michel will both be valuable special teams contributors.  Hollins will be a key player in kickoff and punt coverage, and Michel will be contributing as the kickoff and punt returner.
DE: Brandon Graham, Derek Barnett, Vinny Curry, Josh Sweat, Shareef Miller, (5)  This is a position that I'm very concerned about.  The Eagles must find a way to replace the 10 sacks, which Michael Bennett contributed last season and the 6 sacks, which Chris Long contributed last season.   Graham and Barnett need to both have the best years of their careers.  I'm talking about double-digit sack years for both of them,  despite the fact that neither has accomplished that yet in their careers. There will also be tremendous pressure on Curry to be more productive than he has ever been.  Sweat needs to step up big for the first time in his career.  As a rookie, Miller won't be asked to do very much.  I would not be surprised if the Eagles make a trade prior to the season in order to acquire more talent at this position.
DT: Fletcher Cox, Malik Jackson, Tim Jernigan, Treyvon Hester, Hassan Ridgeway (5) The Eagles defensive tackle group should be dominant, when it comes to creating pressure in the face of the quarterback. Cox has proven that he can't be single-blocked by any guards in the league, therefore offensive lines are forced to double team him.  Jackson is committed to making teams pay for double teaming Cox.   Jernigan is healthier than he was a year ago and he's eager to prove it.  This three man rotation is the best three man defensive tackle unit in the league.  Ridgeway and Hester are capable backups.
LB:  Nigel Bradham, Kamu Grugier-Hill, Nathan Gerry, Zach Brown, L.J. Fort, (5)  Bradham is the team's best linebacker.  He missed the off-season work, but he'll be fine going forward because he knows the defense like the back of his hands.  Grugier-Hill is a tremendous athlete who has started to shine this offseason.  He has showed signs of being a playmaker.   This could be a breakout year for him. Brown will likely win the starting middle linebacker position because he's physical and outstanding for the run.  Don't expect him to be on the field in passing situations.  Bradham and Grucier-Hill will be the featured linebackers.
CB: Ronald Darby, Avonte Maddox, Rasul Douglas, Sidney Jones, Cre'Von LeBlanc (5)
Despite missing the entire offseason due to an ACL tear, Darby will definitely be starting at one of the cornerback positions. He's got all the tools to be an outstanding corner, but I want to see him be more physical in his tackling.  I believe the second-year Maddox is one of their best defensive backs and I see him starting at either cornerback or slot corner. The question marks involve Jalen Mills, who is still recovering from a foot injury; Sidney Jones, who is trying to stay healthy and put together a number of games of consistent play;  and Rasul Douglas, who played well last season when he got his chance.  Mills might not be ready to play at the beginning of the season.  When the season begins, I expect Darby and Maddox starting at the outside corners and Jones starting at slot corner.  Douglas and LeBlanc will be backing up.
Safety: Malcolm Jenkins, Rodney McLeod, Andrew Sendejo, Blake Countess, (4)  Jenkins and McLeod will be back there again running things in the secondary with Sendejo backing them up.  Jenkins continues to play with tremendous versatility, savvy and toughness.  McLeod is eager to display his tremendous coverage and tackling skills after recovering an ACL. Countess and Tre Sullivan will battle for that final roster spot. Countess has an advantage because of his play on special teams.
Special Teams: Jake Elliott, Cameron Johnston, Rick Lovato (3)  No changes are expected with Eagles kicker Jake Elliott, punter Cameron Johnston or long snapper Rick Lovato. All three of these skilled performers are amongst the best in the league at this jobs.