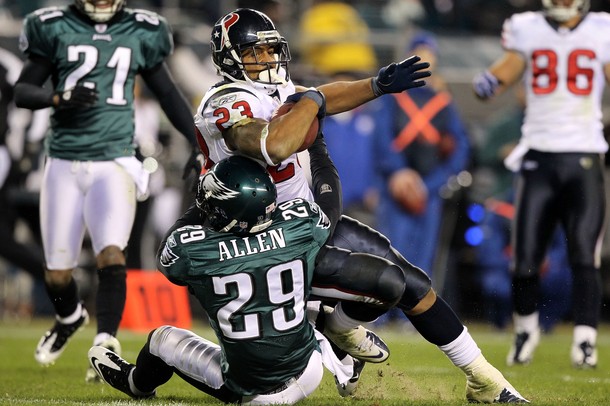 I like the fact that the Philadelphia Eagles aggressively attacked their need for an improved pass rush and a dominating defensive end on the other side away from Trent Cole.  I didn't think they needed to give up so much to move up and get Brandon Graham but I give them credit for getting their guy.
I'm pleased by the fact that Andy Reid and Howie Roseman weren't satisfied there, the Birds continued to draft defensive ends, Daniel Te'o Nesheim in the third round and Ricky Sapp in the fifth, because they realize that it's easy to miss on these defensive ends.
I hear they're going to use Te'o Nesheim as an inside pass rusher at the tackle position on third downs.  This is drafting for today's NFL game which is all about the passing game.
It shows that they know how important it is that they must be able to rush the passer effectively with their front four and not depend upon blitzing.
I thought the drafting of the Nate Allen was a good move because it addressed a weakness the Eagles have.  They didn't draft another safety until the seventh round, when they grabbed Kurt Coleman,who probably won't make the team.
Allen is a good pass coverage guy, but he's not a  hard-hitting type intimidater, which I think they need.
I don't like what they did to address their needs at the cornerback position.  They only drafted Kentucky cornerback Trevard Lindley.  They failed to properly address their needs at the position and there's a good chance that they're going to pay for it.
I'm not overly excited about the linebackers they drafted,  Keenan Clayton and Jabar Chaney, because I don't think they're any different from what they already have on the roster.  They can run and they're small.
I like the drafting of a quarterback,  Mike Kafka, and a tight end, Clay Harbor.   They needed depth at these positions.
Wide receiver Riley Cooper will make the football team and could fill a valuable role as a target in the red zone.
I don't think running back Charles Scott has much a chance of making the football team.  Defensive tackle Jeff Owens seems to just another guy.
I like some of the things the Birds did in this draft, but there are other  places where I thought they missed it.
I'm going to give them benefit of the doubt and hand them a B- for this year's draft.   Of course this is with the assumption that the players which they drafted early, Graham, Allen, Te'o Nesheim, will be able to live up to what is expected of them.