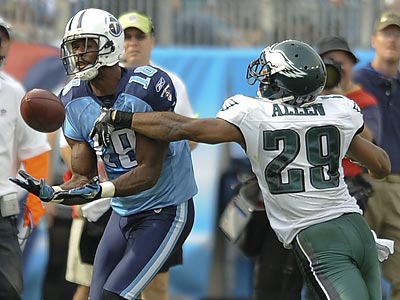 The 75th Annual NFL Draft has come and gone.  When I look at how the Philadelphia Eagles approached, I keep repeating the number thirteen.  If one-third of the their draft picks don't make the final roster, eight rookies is still a lot of young talent.
The fact that Philly drafted this many players is no surprise to me. With the limitations on free agency this uncapped year, it was important to approach the draft in a 'pre-1993' manner (the NFL Draft had 12 rounds before the collective bargaining agreement was in place).
It's also no surprise that the Eagles put a huge emphasis on acquiring defensive talent.  With the 2009 draft focused on offense and the way they ended the season in Dallas, coach Andy Reid and GM Howie Roseman had to address this side of the ball.
Looking at the Eagles 13 draft picks, here are my thoughts and predictions on each individual.
Brandon Graham-DE/OLB (Michigan), 1st Round (No. 13)
I never was a fan of the Eagles' drafting Texas safety Earl Thomas.  I wanted the Eagles to get the best possible pass rusher in the 1st round.  I thought for certain that they would grab Georgia Tech DE Derrick Morgan, but Reid strongly stated this was the guy he coveted most.  The more I read about Graham and watch his highlights, the more I feel the Eagles made the right selection.
2009 Prediction: Starting left DE
Nathaniel Allen-FS (USF), 2nd Round (No. 37)
As far as safeties were concerned, this is the guy I wanted all along.  I didn't think there was any chance of the Eagles drafting Tennessee's Eric Berry.  Allen's size and scouting report made me think he's a very good fit for this defense.
2009 Prediction: Starting FS
Daniel Te'o-Nesheim- DE (Washington) 3rd Round (No. 86)
There were reports that the Eagles were interested in Te'o-Nesheim, but I think taking him in the third was a bit of a reach.  I, like many others, thought the Eagles would've selected a cornerback in the third.
2009 Prediction: Primarily special teams.  Backup DE
Trevard Lindley-CB (Kentucky) 4th Round (No.105)
I'm not a fan of this pick, but I understand why the Eagles chose him. Lindley's known as a good cover corner. A more physical Brandon Ghee (Wake Forest) was available in the 3rd round and a versatile Akwasi Owusu-Ansah was still available.  The Eagles are more concerned about their corners creating turnovers than tackles.
2009 Prediction: At best he'll play in dime packages.  It'll be a year or two before he starts.
Keenan Clayton-OLB (Oklahoma) 4th Round (No.121)
Another huge reach in my opinion.  One thing's certain.  The Eagles are suddenly deep at weakside linebacker.
2009 Prediction: Special teams
Mike Kafka-QB (Northwestern) 4th Round (No.122)
I thought the Eagles would've selected John Skelton (Fordham) or Jonathan Crompton (Tennessee) as Kevin Kolb's future backup.  After looking at some brief clips, it looks like Kafka is a good fit for the Eagles' offense. Like Kolb, Kafka is the son of a football coach.
2009: 3rd string QB
Clay Harbor-TE (Missouri State) 4th Round (No.125)
While Brent Celek continues to develop into a premier tight end, Cornelius Ingram is rehabbing his ACL in order to be his speedy backup.  Harbor will be given the chance to be the Eagle's blocking solution at TE.
2009 Prediction: 3rd string TE
Ricky Sapp-DE/OB (Clemson) 5th Round (No.134)
This is the steal of the draft for Philly.  At one point, Sapp was given a first round grade.  While listed as a defensive end, I think the Eagles are going to give Sapp every chance to become a SAM linebacker.
2009 prediction: Special teams
Riley Cooper-WR (Florida) 5th Round (No.159)
The Eagles spent a lot of their time scouting wide receivers 6'3" or taller.  If Cooper proves he can play special teams, he could very well make Hank Baskett's second stint a brief one.
2009 prediction: #5 Wide receiver/Special teams.
Charles Scott-HB (LSU) 6th Round (No. 200)
Outside of Scott being considered a 2nd-3rd round prospect that slipped, I'm having a hard time understanding this selection.  I've always wanted the Eagles to keep a bigger halfback on the roster.  Not known to be a big part of the passing game, I'm curious to how Scott will be used.
2009 prediction: Practice squad
Jemar Chaney-ILB (Mississippi St.) 7th Round (No.220)
I like this selection, especially after last year's disaster at middle linebacker.  Chaney will challenge Joe Mays and Omar Gaither to provide depth behind Stewart Bradley.
2009 prediction: Backup MLB.
Jeffrey Owens-DT (Georgia) 7th Round (No.243)
This isn't the Georgia defensive tackle I expected the Eagles to take (Geno Atkins was taken by Cincinnati right before the Eagles in the 4th round).  Owens could be another steal.  If he can prove he can rush the passer, Trevor Laws might have a hard time staying on the team.
2009 prediction: Makes the team as the 4th DT.
Kurt Coleman-S (Ohio State) 7th Round (No.244)
The Eagles final draft pick is already known for his special teams play.  If he proves he can play safety (or possibly corner), Quintin Demps could be in danger of being cut.  If Demps takes the competition seriously, Coleman will probably be placed on the practice squad.
2009 prediction: Practice squad.
In all honesty, I was pleased overall with the Eagles' draft picks.  They rarely selected the player I wanted them to, but that's why as a fan you should never become enamored with the names that 'experts' deem are future Pro-Bowlers
What I liked the most is that each draft pick is a player with a good chance to make the team.  The Eagles didn't select any experiments like they have in the past.
Now, Reid and Roseman have to locate some undrafted talent.
Come over to PJ Whelihans at 7pm tongight to go back over what the Eagles did in the draft.