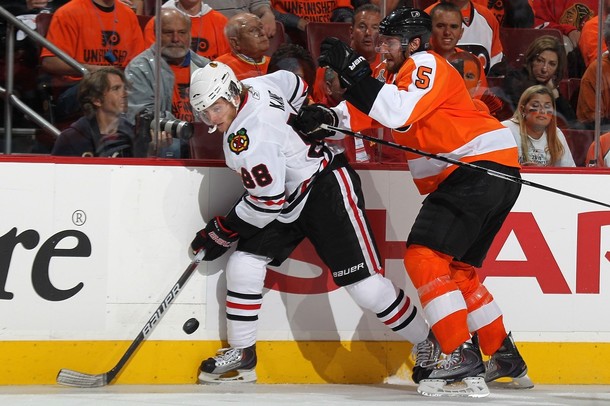 Recent statements by Flyers general manager Paul Holmgren suggest that the team is comfortable moving forward with eight defensemen next season, when most teams roll with seven.  With the acquisition of Matt Walker in the trade for winger Simon Gagne, the Flyers now have $25.5 million locked on defense, or 43% of the allowable cap.  The Flyers have not been a defense heavy team in recent years, especially in the goaltending department.
I don't believe that Homer is completely done.  As commenter Iggles pointed out yesterday, what this GM says and does are usually two different things.  Additionally, John Boruk of CSN shed a little more light on the Gagne trade, stating that, "There were a handful of teams, maybe five or six, that Gagne was actually willing to waive his no-trade clause for… despite various published reports, the Los Angeles Kings were not an option. He was never asked to consider a trade to LA, and there wasn't a deal on the table to his knowledge."  After speaking with new Tampa Bay Lightning general manager Steve Yzerman and considering that they had cap space available to re-sign him next year, Gagne may have only given Homer one option.
While this insight may explain the reason behind the weak return in the trade, it doesn't excuse Holmgren of his responsibility for managing this team.  Considering the make-up of this team moving forward, a defenseman may be on the move.
Of the currently signed defensemen, Chris Pronger and Kimmo Timonen will retire as Flyers while recently acquired Andrej Meszaros and Sean O'Donnell are basically guaranteed roster spots.  This leaves defensemen Matt Carle, Braydon Coburn, and Walker as possible candidates for trades.  Matt Carle has higher trade value after his season with Pronger, but it would be difficult to reason breaking up that pairing after the season they had together.  Timonen and Coburn, meanwhile, started off poor last season and young defensemen Lukas Krajicek took over Coburn's spot for a period.  Coburn improved his game during the playoffs, though, warranting himself a new contract this off-season.
There have been rumors circulating that the Flyers may still be after another goalie- one of either Marty Turco (formerly of the Dallas Stars) or Jose Theodore (formerly of the Washington Capitals).  Both goaltenders would likely take a cheap deal if offered, as the available roster spots seem to be vanishing quickly.  Trading Coburn or Carle and goaltender Brian Boucher would give the Flyers just over $5 million to sign either goalie and a fourteenth forward.  This may all be speculation, but would the Flyers really dress eight defensemen next season?