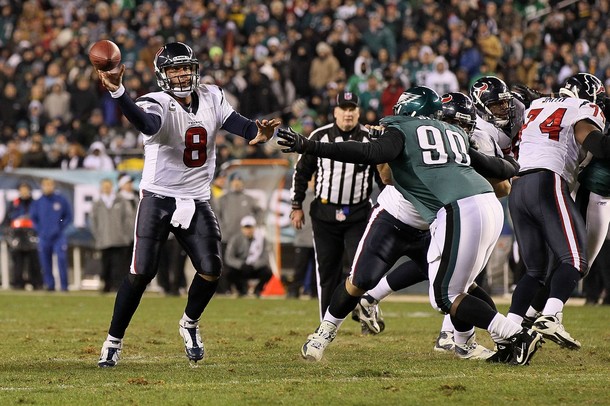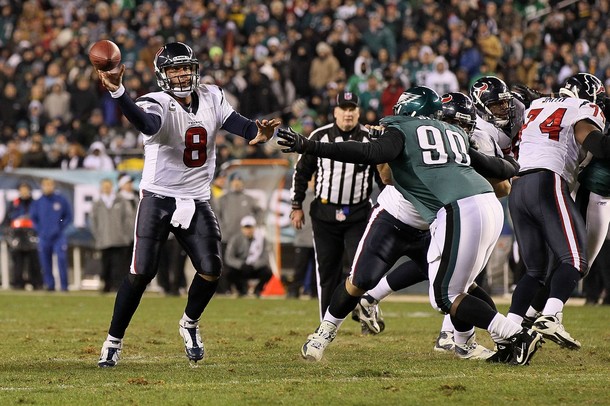 We've all done our share of complaining about the Eagles defense this season. Jim Johnson is gone and Sean McDermott has taken the reigns. Sure the defense was poor this year, but was it McDermott's fault? There were a ton of injuries and many young guys had to step in, which was probably too much to ask.
But, regardless of who you blame, the defense was bad. Plain and simple. Something has to change. So it got me thinking…is now a good time to switch to a 3-4?
Bob Ryan is in limbo in Cleveland and reports have him linked to the Dallas Cowboys. But the fact that he's available has me thinking about what if the Eagles brought him in? Buddy's son running the Eagles defense? Someone to bring in an attitude and a swagger that this defense hasn't had in a long time? This isn't to blame McDermott, but I don't necessarily want to wait around until there are 11 studs (exaggeration of course) on defense and we realize he's not the guy.
I'll be very clear that I absolutely hate when teams bring in a defensive coordinator who immediately changes the scheme because that's his way. Look at the Redskins. One of the things they didn't need to fix prior to this year was the defense. Soooo….let's bring in Jim Haslett and change the defense to a 3-4 when the 4-3 was perfectly fine. Brian Orakpo was probably the only guy suited to the change. Stupid.
But, in Philadelphia, what would really get screwed up? I could argue that they've been drafting for the 3-4 for years. All these tweeners that they draft might actually be able to see the field if they changed schemes. Ray Didinger said not too long ago that Brandon Graham would probably be better off in a 3-4. Ricky Sapp is not a linebacker and there is no way he is big enough to be a DE in a 4-3. Daniel Te'o-Nesheim? Another undersized guy. Remember Bryan Smith? Talk about worthless in a 4-3. You get my point.
It's as though the Eagles are already prepared to bring in guys for the new scheme. No adjustments need to be made to their philosophies. These tweeners will no longer be tweeners in the 3-4.
The big problem is obviously nose tackle. If you don't have a capable nose tackle, you cannot run the 3-4. That's not up for debate. And right now, the Eagles do not have a 3-4 NT on the roster. At least I don't think they do. Nick Cole, maybe?
But seriously, the guy I'm looking at is Aubrayo Franklin from the San Francisco 49ers. He was franchised by the Niners last year and clearly wasn't happy about it. They could franchise him again, if the franchise tags still exists under any new CBA (then again, every single article, TV show, radio show, etc. should be prefaced with "if there is football next year…"). But if he were to come free, the Eagles could have their NT.
What about defensive end? I don't see any reason why Mike Patterson, Brodrick Bunkley, Antonio Dixon and/or Trevor Laws couldn't play on the outside in a 3-4 scheme. Defensive ends in a 3-4 don't typically get pressure on the quarterback and that suits their skill sets brilliantly. They are already adroit at not getting pressure on quarterbacks. And it's not like they do their current jobs exceptionally well, so you wouldn't be taking away something the defense already does well.
I'm not suggesting that this is something the Eagles will do. We all know they won't. They'll continue to flail around in the 4-3, drafting undersized guys that don't fit. But, considering the current state of this defense and the fact that the defensive coordinator is unproven (I'm not ready to say he's bad just yet), this is the perfect time to scrap the 4-3 and make the switch.
Will it solve everything? No, you'd still have secondary problems. But, it could make better use of all these tweeners you spent draft picks on that don't remotely seem adequate in a 4-3.
I just don't see the downside at this point to bringing in a Bob Ryan and Aubrayo Franklin and giving this defense an injection of attitude that it clearly doesn't have right now. Just a thought.
Would you do it?