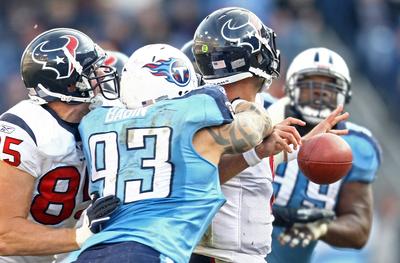 Earlier this week I suggested that the Eagles should take a chance on signing Albert Haynesworth as part of my 5-point plan to revive the defense. This suggestion seems even more likely now that the Eagles have inked defensive line guru Jim Washburn to a multi-year contract. But perhaps I missed another potential signing that could improve the defensive line; ex-Eagle Jason Babin.
Titan's Insider quotes Babin this week as suggesting he would contemplate a return to Philadelphia because of Washburn:
"It has happened so fast," Babin said. "He is the guy that gave me the chance. He's the guy who poured water on me, let me have sunshine, gave me fertilizer, and really let me grow. There's been no 'Hey Jason, we want you in Philly' discussions, but it would be hard for me not to contemplate it if he said, 'Jason, I want you in Philly. He resurrected me. I'd have to at least give that serious consideration. But Tennessee is where I made a home, my kids go to school there, we live there. So I feel like I'm in a tough position."
Babin is scheduled to become a free agent again. He posted 12.5 sacks for Tennessee in 2010.