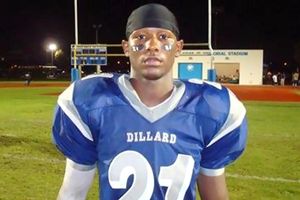 Is this the best defensive back class in Stanford history?  Only four years of tight coverage, pass breakups, interceptions and big hits will answer that question.  But the group of defensive backs that signed their letter of intent for Stanford University is surely among the most highly touted to enter the elite academic institution in Palo Alto, CA.
The headliner of the group is consensus top-10 safety and Florida product Wayne Lyons (Dillard HS).  After accumulating over 40 offers from the top traditional programs in the country and conducting honors thesis-worthy research on all of his options, Lyons chose Stanford.  The choice was made on national television at the US Army All-America Bowl in the midst of an excellent showing by the 4-star safety – at cornerback, nevertheless.  It was made at a time when the team still had no head coach – former coach Jim Harbaugh had recently signed a 5-year deal with the 49ers.
Lyons brings the total package to the Cardinal secondary.  He can play tough close to the line against the run as he did during his time at Dillard, and can cover the top receivers in the country when put on an island.  A proven stud as a safety and as a student (class valedictorian), Lyons figures to see early playing time on The Farm.
With his commitment, Lyons joined Georgia defensive back Ra'Chard Pippens (Ola HS) in the Cardinal's 2011 DB haul.  Pippens, like Lyons, did have an offer from the BCS National Champion Auburn Tigers.  Pippens figures to be a big cornerback at the next level even though the scouting services are wont to list him as a safety at 6'1" 181.  His change of direction and long speed are attributes that should allow him to run with receivers and make plays in the newly minted Pac-12 conference.
Three-star Georgia cornerback Ronnie Harris' (Westlake HS) commitment followed that of Lyons.  It came soon after Harris was informed that he had successfully navigated Stanford's stringent admissions process.  Although being the smallest of Stanford's secondary class at 5'10" 160 lbs, Harris plays with speed, toughness, energy and love for the game.
His toughness by far outweighs his small stature, which figures to change due to the fact that he is younger than most of the 2011 class.  Hailing from the Alma-mater of Heisman Trophy winner Cam Newton, Harris has two interception returns of over 90 yards on his high school resume.   Solid hits and pass breakups also litter his highlight film, which earned him offers from South Carolina, Tennessee, West Virginia and, again, Auburn among others.
There were a few near misses as far as secondary targets go.  Four-star cornerbacks Jermaine Whitehead from Mississippi (Amanda Elzy HS) and Demetrious Nicholson from Virginia (Bayside HS) would have been great additions to the class, but opted for schools closer to home.
Nevertheless, regardless of which of the signees ends up on the field in 2011, the Cardinal faithful have to be ecstatic with the credentials that these three stellar student athletes are brining to Stanford University.
Note:  Wayne Lyons, along with Stanford signees WR Devon Cajuste (NY, Holy Cross), QB Kevin Hogan (D.C., Gonzaga)  and Ty Montgomery (TX, St. Marks) will all be playing in the USA vs. World Under 19 All-Star Game which airs at 8:30pm EST on FCS Central.