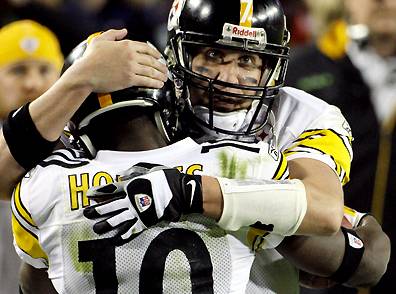 Paul Domowitch writes an article today on Philly.com which points toward the draft as the reason the Steelers are going after their seventh Super Bowl title and the Eagles are still trying to get their first.
He talks about how the Steelers hired Kevin Colbert from the Detroit Lions and made him their Director of Operations.  He orchestrates the Steelers draft.  Ironically the Lions fired Colbert and made Matt Miller than GM.  It obviously was a costly mistake.
I like the way the Steelers draft size.  They're always big and physical.  Plaxico Burress was a big, physical receiver.  Casey Hampton is as big and physical as they come when you're talking about nose tackles.  Ben Roethlisberger's size allows him to fight off blitzers and pass rushers.
The Eagles will never draft a big running back like Rashard Mendenhall.  He punishes tacklers and gets the ball into the end zone because of that size.  Size isn't the secret to success but it helps.
The kid they drafted last Ziggy Hood is a monster who stepped in from the injured Aaron Smith at defensive end and the defense didn't miss  a beat.
Check out the first round draft picks of the Eagles and Steelers  since 1999.
Philadelphia Eagles                                                Pittsburgh Steelers
1999 Donovan McNabb                                          Troy Edwards
2000 Corey Simon                                                    Plaxico Burress
2001 Freddie Mitchell                                             Casey Hampton
2002 Lito Sheppard                                                 Kendall Simmons
2003 Jerome McDougle                                         Troy Polamalu
2004 Shawn Andrews                                            Ben Roethlisberger
2005 Mike Patterson                                              Heath Miller
2006 Brodrick Bunkley                                          Santonio Holmes
2007 Traded Down For Kevin Kolb                   Lawrence Timmons
2008 Traded Down Got Trevor Laws               Rashard Mendenhall
2009 Jeremy Maclin                                              Ziggy Hood
2010 Brandon Graham                                         Maurkice Pouncey