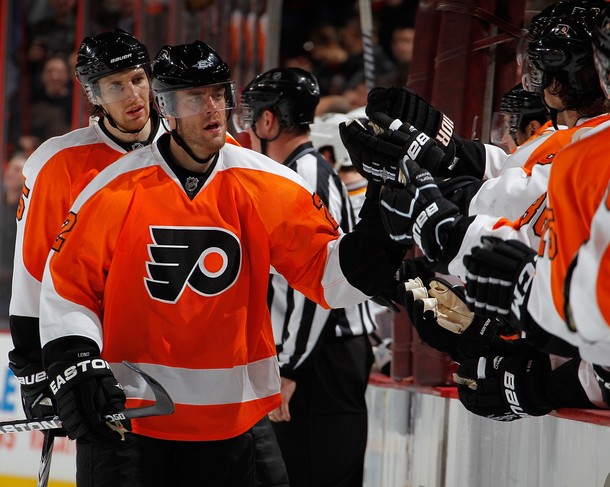 The Flyers followed their awful loss on Tuesday with a 3-2 win tonight against the Nashville Predators. Nashville doesn't have many marquis forwards, but they have a phenomenal defensive core led by Ryan Suter and captain Shea Weber. They also have an excellent goaltending tandem between Pekka Rinne and Anders Lindback, who was in the net tonight versus Sergei Bobrovsky.
The Flyers came at the Predators with a lot of pressure in the first period, making heads-up passing plays without sacrificing defense. They were sustaining better high-percentage shots through the first half of period as well, including Jeff Carter's quick wrister through traffic at the 10:18 mark.
Bobrovsky wasn't as shaky as he was on Tuesday, but he let up a number of a Leighton-esque rebounds throughout the game. One such rebound bounced directly to centermen Marcel Goc, who had all the net in the world to work with.
It's not as if Lindback, another rookie, wasn't giving up the same kinds of rebounds as Bob. There just weren't any Flyers around to capitalize on them.
Having Bob off his game marginally is fine if the defense is there to help him out, but they gave the Predators too many opportunities to score. Some of that can be attributed to lucky bounces, but not all of them.
Goc, for the record, skates on the first line with Martin Erat and Sergei Kostitsyn. Not exactly household names, but Nashville has been a solid team through the last few seasons that gets it done without superstars like Crosby or Ovechkin.
The Flyers were lucky to get out of the second period without having to play catch-up hockey, as the Predators pressured their opposition into playing sloppier, including an errant pass that led to a goal by the Preds at the 10:40 mark. If it wasn't for a weak incidental contact call by the referees, the Flyers would have trailed coming into the third.
"The way we handled the second period… I think we're going to see a lot of these games coming up. Just in general, because its playoff hockey," said coach Peter Laviolette. "Every team is fighting for something and if you don't fight for it, you don't make it."
Dan Carcillo fought with defenseman Kevin Klein (no, not the actor) towards the end of the second period after Carcillo was called for boarding. Klein won the fight largely because Carcillo couldn't get his glove off or his arm out of his jersey and the referees stopped the fight after he threw one punch (in all fairness, it took him awhile).
The hero for the night was Ville Leino, who notched the first two-goal game of his career with a powerplay goal and the game winning goal late in the game. Given an extra shift by Laviolette for his solid playmaking throughout the period, Leino was on the ice with Carter and Claude Giroux when he roofed a beautiful spinarama wrister up and over Lindback.
"I use that play quite a lot," said Leino. "Kind of a… spinarama, and every time you get it, a goalie is gonna be down, so you just got to get it up."
When asked if it was his first two-goal game, Leino responded, "I think it was. It felt good, but I wouldn't mind having the third one."
The Flyers have another tough test against a Western Conference contender on Saturday, as the Dallas Stars head to Philadelphia.
For post-game interviews with Blair Betts, Sergei Bobrovsky, and Jeff Carter, you can follow me on Twitter (@JoshJanet).
Congratulations to Brian Lim and Matt Katyl as well, who competed tonight at the Wells Fargo Center at the conclusion of the Flyers game with a 3-3 tie. The shootout got pre-empted by the appearance of the zambonis which, while they cover a lot of the net, have pretty wide five-holes.