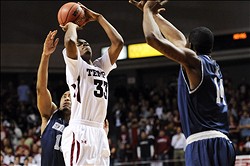 The Liacouris Center continued mean good times for the Temple Owls.  They captured their 18th straight home win and fourth straight victory this season as the Owls shot the lights out as a team and rode the hot shooting of guard Scootie Randall to a 80 to 67 win over A-10 rival Rhode Island this afternoon.
Fran Dunphy's squad shot a blistering 23 of 47 shots.  Randall scored 27 points by making 10 out of 13 shots and dropped 6 of 9 three point attempts.  He got plenty of help from his teammates along the way as  Khalif Wyatt tallied 14 points, Lavoy Allen dropped 13 and Ramone Moore also put up 13.
The Owls killed their rival on the boards by outrebounding them 38-24.  Allen snatched down 10 boards of his own.
The Rams were led by Delroy James, who had 27 points and Marquis Jones who chipped in with 18.  Obviously it wasn't enough.
With the win the Owls remain tied for third place Owls (17-5, 7-2 A-10) in the Atlantic-10 Conference, while the Rams (14-9, 5-4 A-10)