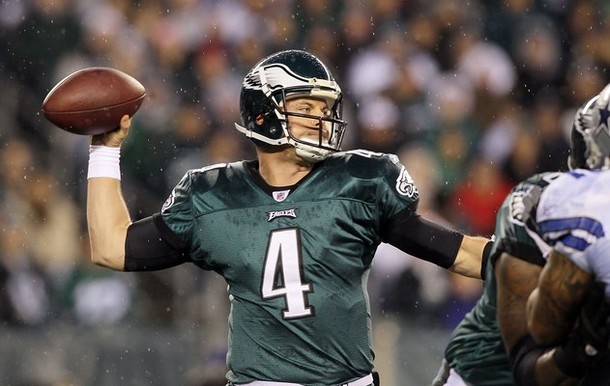 The Arizona Cardinals have never been known as a well-oiled machine when it comes to how they run their franchise. They are almost polar opposites of the Pittsburgh Steelers, and you can see that one team is playing today, and the other is….consulting their wide receiver on their quarterback situation?
According to Adam Schefter of ESPN, that's what's happening. Schefter reported on Sunday's NFL Countdown that the Cardinals are soliciting the advice of Larry Fitzgerald with regards to the team's next signal caller.
According to Schefter, Fitz's "first recommendation" was the Philadelphia Eagles' Kevin Kolb. This might actually mean something, since Fitzgerald is entering the last year of his contract and apparently the team really wants his input.
I could see the Cardinals at least finding out what it would take to get Kolb, but I don't know if they would part with much. The Bidwells are notoriously cheap.
But, if the Cardinals really care what Fitzgerald thinks, maybe they would up the ante a bit. It's still not known exactly what the Eagles will want for Kolb, and maybe they aren't even really sure right now. Surely they have discussed his value with other teams, but you never know what someone will pony up down the road when they feel like they really have to pull the trigger to acquire him.
I still wonder to what extent they are actually taking Fitzgerald's advice. If they are just curious what he thinks, that's one thing. If they are really asking him to get involved in personnel matters, then that is pretty bad. Players play. Coaches coach. General managers generally manage (okay that part doesn't make sense, but you get my point).
Could you imagine Mike Tomlin asking Hines Ward's advice on personnel matters? I couldn't. There is a reason they are playing today and the Cardinals aren't.
UPDATE: In the wake of this report, Ken Whisenhunt issued a response. "Larry and I talked about a number of things," said Whisenhunt. "I've talked to other players as well … Larry is obviously not making the decisions."