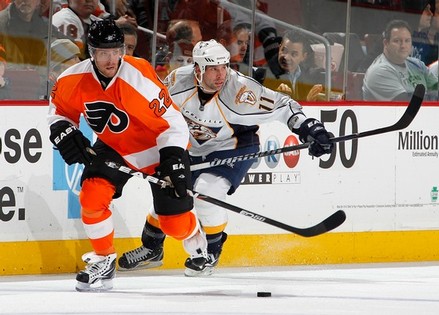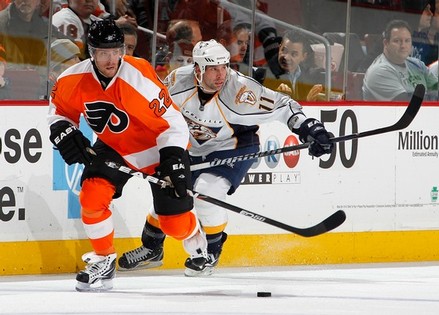 CSNPhilly is reporting that the Flyers have picked up contract negotiations with Ville Leino's agent, Bill Zito. Leino's contract expires at the end of the season.
The original hold-up in negotiations was that teams aren't allowed to allocate more money in contracts than what's allowed within the existing salary cap. That is to say, the team can't have $63 million allocated for the 2011-12 season when the current cap is just over $59 million.
With the waivings of goaltender Michael Leighton and defenseman Matt Walker, however, the team has freed up future salary to re-sign Leino.
The expectation is that Leino will sign somewhere within the $2.5 – $3.0 million range over a three or four year timeframe. Using Toronto Maple Leaf forward Clarke MacArthur as a gauge, this sounds about right.
MacArthur, who has the same number of assists and three more goals than Leino this season, had worse numbers last year with the Buffalo Sabres and Atlanta Thrashers. He was awarded $2.4 million in arbitration, which the Thrashers walked away from. He's currently on a one-year, $1.1 million contract.
The extra money for Leino is due to the fact that he has gelled so well with linemates Danny Briere and Scott Hartnell. His output has been respectable, although he has been somewhat of a turnover machine for the last several weeks. Leino subtly acknowledged his string of errant play on Thursday after his fantastic effort against Nashville.
"I feel like my self-confidence hasn't been there," said Leino. "It's all my game. Like I said, I haven't been feeling that good lately, but today I wanted to go right [away] and start making plays and working hard. At the end, it always pays off."
Whether it happens next week or during the offseason, Leino will get paid. He's become too integral to this team to part with.