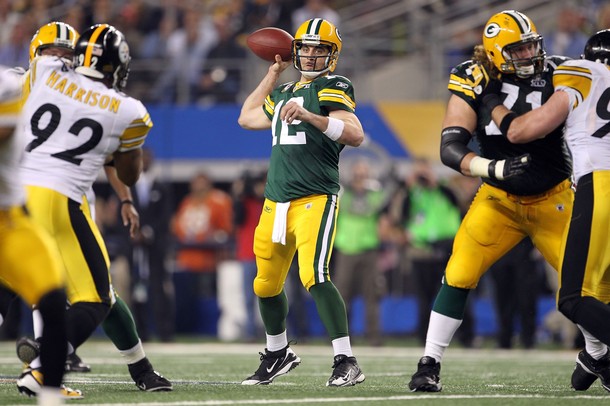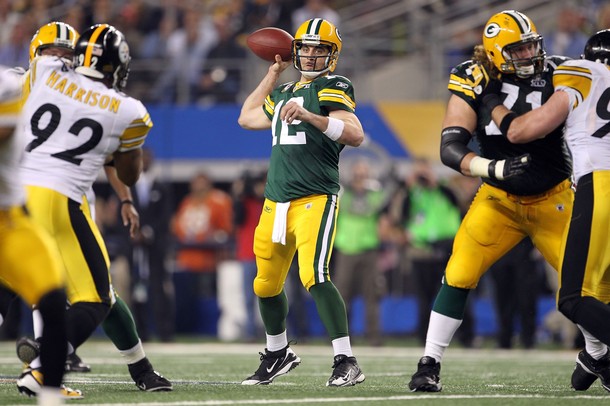 The good and exciting Super Bowl game between the Green Bay Packers and the Pittsburgh Steelers was the only thing that saved this entire Super Bowl week. In my opnion there were lots of issues, in fact too many.
#1) Packers teammates chirping about picture day with players on IR,
#2) All the questions about both teams Assistant Coaches being candidates for Defensive Coordinator postions for other teams,
#3) Big Ben Roethlisberger brou-ha-ha about being out with his "O' Linemen at Piano Bar on Tuesday evening to have a little fun before the real, practices began on Wed/Thur/Fri,
#4) Unfortuantely the weather was lousy all week in the Dallas metroplex cancelling most of the outdoor events,
#5) Ice cycles and snow was falling from the stadium and causing damages and some light injuries to people,
#6) A horrible rendition of the National Anthem by Chriistine Agulieria, she forgot some of the words,
#7) Poor/Slick Field Conditions at Cowboy Stadium as players from both sides had issues losing their footing all game long,
#8) A crappy 1/2 time musical guest, The Black-Eyed Peas, and their audio was very amateurish,
#9) The temporary stands to help set an attendance record did not pass safety inspections causing about 400 fans to watch the game on a big monitor outside in the cold (and received 3 X their ticket price as a consolation), they've gone even farther by offering a free ticket and accommodations for next year's Super Bowl,
Take away Packers QB play of Aaron Rodgers and maybe WR G Jennings, then ask yourself.  Did anyone else's play really look like they were on top of their games?
It was awful dropped passes, poor passes and interceptions, missed open receivers, stupid penalties and so on.  Add to that the fact that the Packers won by rushing the ball 15 times total and (the last 2 rushing attemps were kneel downs to close the game out)
Where was the the vaunted defense of the Steelers?  Middle linebacker James Farrior looked lost in pass coverage and linebackers James Harrison and LaMarr Woodley were simply average.
Cornerback William Gay looked like he didn't belong in the NFL.  He never had sight of the ball once it left the quarterback's hands.   He was constantly late in reacting to the ball or unable to see when it was coming.   He was embarrasing to see on the field and then safety Troy Polamalu whose play has really struggled since his injury in early December, didn't even play average. He was poor in pass coverage all game long.
I"'ll be honest, the Eagles Secondary did better versus these Packers wide receivers, which I know isn't saying much, but the Steelers didn't get it done with their front 7 or their pass rush.
Green Bay quarterback Aaron Rodgers found open receiver after open receiver, and if it wasn't for some dropped passes, this game could have been a total blowout.   Packers wide receivers James Jones dropped a gimmee touchdown pass.  Jordy Nelson who caught 9 passes for 140 yards, still had time to drop at least three passes.
Brett Swain also dropped a key pass which cost the Packers a challenge flag and forced them to punt in the fourth quarter.