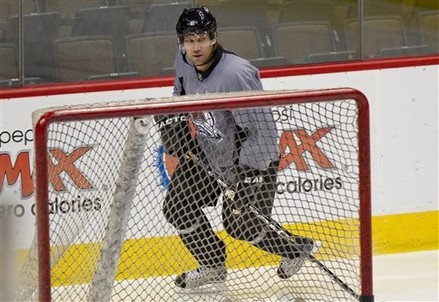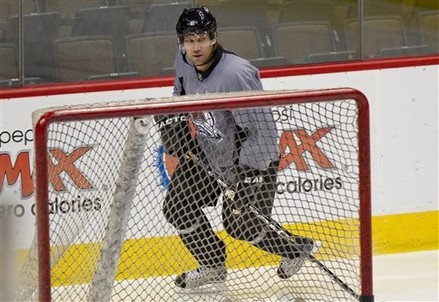 A number of former Flyers are on their way to returning to North America to play in either the AHL or the NHL this season, and possibly the next, based on recent reports. I thought I'd consolidate the news into one piece for brevity.
The first is Peter Forsberg, who signed a one-year, $1 million contract with his former team, the Colorado Avalanche on Sunday. Forsberg has been on the verge of retiring for years now, largely due to complications with his right foot. He has finally found a foot brace that allows him to compete with only marginal discomfort.
Forsberg will fill the position left by left winger Tomas Flesichmann, who was diagnosed with a blood clot in his lungs and will not return this season. Even at 80%, Forsberg will be a decent (and cheap) replacement for Fleischmann.
Interestingly, it was revealed in the 2010 offseason by Swedish newspaper Expressen that Flyers general manager Paul Homgren had contacted Forsberg last March about returning to the team. He declined at the time, feeling that he wouldn't have been fit enough to play. I've heard some ask if Forsberg could be traded to the Flyers by the deadline, and the answer, flat out, is no.
The second is goaltender Ray Emery, who I wrote last week as rumored to be in talks with several NHL teams. He has officially signed with the Anaheim Ducks. Elliotte Friedman of CBC first reported on Thursday that Emery was in talks with Anaheim, although his team of choice was the Flyers. The Flyers "kicked the tires" on Emery, but elected to pass.
The deal with Anaheim is just what I proposed for Philadelphia- a one-year, prorated two-way contract worth $500K. Should his hip injuries sideline him further or he can't play at a competitive level, the Ducks still won't have risked that much with this signing.
He has to pass through waivers before everything becomes official, but any team that grabs him has to keep him on the NHL roster for the rest of the season, regardless of the two-way nature of his contract. I think everyone has been keeping their eyes on the New York Islanders to see if they would be desperate enough (again) to do it.
The last player is Patrick Thoresen, who Teemu of Euroflyers/BroadStreetHockey tweeted on Saturday as being in talks with several teams about returning next season, including the New York Rangers. Based on reports from Teemu over the last year or so, he's been trying to get back to the NHL for some time. Sadly, the thing I remember most about Thoresen is the slapshot from Washington Capitals defenseman Mike Green that he took in the genitals.
For further updates on the Flyers as they happen, follow me on twitter (@JoshJanet).