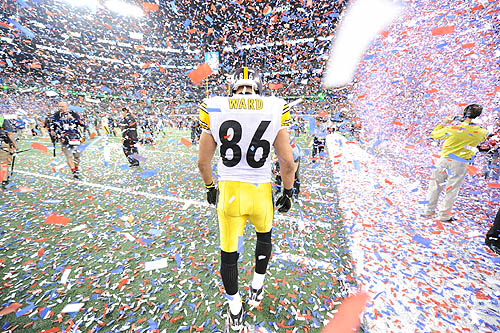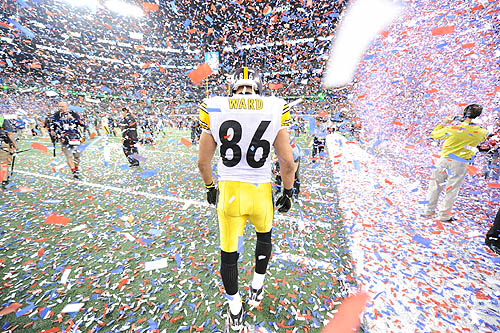 The Pittsburgh Steelers season started with Hines Ward calling out Ben Roethlisberger and it finished with him calling out Ben Roethlisberger.
When the Steelers got the ball trailing by six on the last drive, I was yelling to the Green Bay secondary, "Double Hines Ward and watch Wallace going deep".  I was sure they were going to use Ward and their tight end Heath Miller to keep the sticks moving and send speedy wide receiver Mike Wallace deep to try and catch the Packers secondary napping.
It seems that Ward thought the ball was going to be coming his way also and he seems to be taking a shot at his quarterback for not giving him a chance.
"I'm thinking deja vu, here we go again," Ward said in the Pittsburgh Post-Gazette. "Two minutes, let's go down there. I really felt like I was in a zone, that anything that came my way it was going to get caught no matter what. I didn't get an opportunity. I would like to have gotten opportunities [on the final series] but it didn't happen."
I saw Mike Mayock on NFL Network after the game breaking down the Wallace's routes on that last series and he eviscerated him.  On each play failed to focus and execute his route properly.  On one play the youngster didn't know what route he was running.  On another play, he pulled up rather come off the ball full speed and beat his man deep.  On the final play, Wallace came off the ball half-speed and allowed cornerback Tramon Williams to sit down on the curl route.
While Mayock was going through all of this focus on Wallace, I was saying, why is Roethlisberger throwing the ball to Wallace on every play in this situation.  If you see the kid is being overcome by the situation, you tell him to go deep and work with Ward and Miller underneath.  You've got to move the sticks.  Forget Wallace.  Look up Ward.