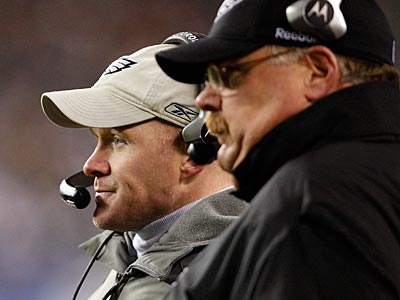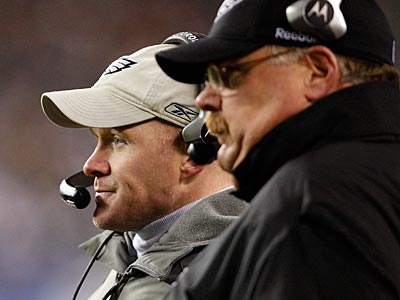 If you want to know why the assistant coaches that will be available today at the Nova Care Complex are going to do everything they can to get the job done for Andy Reid, all you need to do is see what Reid tried to do for his former defensive coordinator, Sean McDermott.
Reid couldn't save McDermott's job here, so he tried to make sure he helped him get a job somewhere else.  McDermott was in over his head here as the defensive coordinator, but he had given Reid everything he had, so Andy was going to make sure the kid landed on his feet.
Once he fired the young man, Reid jumped on the phone and called Carolina Panthers new head coach Ron Rivera and tried to help McDermott get a job.  He wanted him to be in a new position before his firing became public.
"Andy wanted it to be seamless, and unfortunately it wasn't," Rivera said. "Andy's whole guise in my discussion with him was, 'We've got to make people understand that it was not as much because Sean did a bad job or anything. It was just as much always going to be tough and unfair for him. We've got to create a situation.' "
Reid stuck his neck out for McDermott while knowing that he was going to get blistered by the local media for not coming right out and making a public statement about firing the young coach.  Most of the time nowadays, it's everybody for him or herself.  Once somebody fires you, they forget you even exist.
Say what you will about Andy Reid, the guy understands something about respecting people who go to battle for him. In the old days they called it honor.  My grandfather tried to explain it to us years ago.  My dad has always lived this way.  Grand Pop would quote scriptures out of the bible about "Honor your mother and father, that your days be long upon the earth".
It simply means, if somebody lays it on the line for you, you should be willing to lay it on the line for them.  Somebody taught Andy Reid this. This mindset flows from Reid to his coaches and down to his players.  Everybody on that staff knows Reid might have promoted McDermott too soon and the young coach might have come up a bit short, but they also know that the young man did his best.
In addition they all saw how Reid honored that and it's the reason you will see effort from this coaching staff and they'll transfer that mindset to the players.
It's too bad more of our society doesn't know this principle.  We wouldn't have as many seniors and children left to fend for themselves and we wouldn't have as much divorce.  Law suits would be cut down to a minimal.
Rather than criticize this quality in Reid, I admire it.  It says a lot about him as a person.  When you can button up your lip in your own defense in order to protect somebody else, you've got discipline and a good heart.
He has protected his players for years after games and you notice how much effort they give him each year when the season is on the line. We could all learn from this honorable quality of Reid.
Yes, he made a mistake with David Akers, when he chastised him after the Green Bay loss even though he had full knowledge of Akers extenuating circumstances, but that has rarely happened in Reid's tenure.  Countless times he has stood and took the arrows and shielded his players.
You can believe that the assistant coaches who will talk to the media for the first time today in their new positions are well aware of what Reid did for McDermott and what he tried to do for the young coach. Not only are they aware of what Reid did, but the rest of the assistant coaches around the league are aware of it.  Do you think McDermott has anything bad to say about Reid?
There's a good reason that this staff will be sleeping at the complex during the season and doing everything they can to bust their butts to make this team a winner for Reid because they saw what he did for McDermott.  They know if they do their best for Reid, he won't abandon them.
Today we'll get the chance to meet the Eagles new coaches from 11:30am to Noon.  New defensive line coach Jim Washburn, new offensive line coach Howard Mudd, new secondary/cornerbacks coach Johnnie Lynn, and the two former Eagles players, Mike Zordich and Mike Caldwell will be available in the auditorium of the Eagles Nova Care Complex.
Check out the site in the afternoon because I'll give you my first impressions of the new coaching staff members.