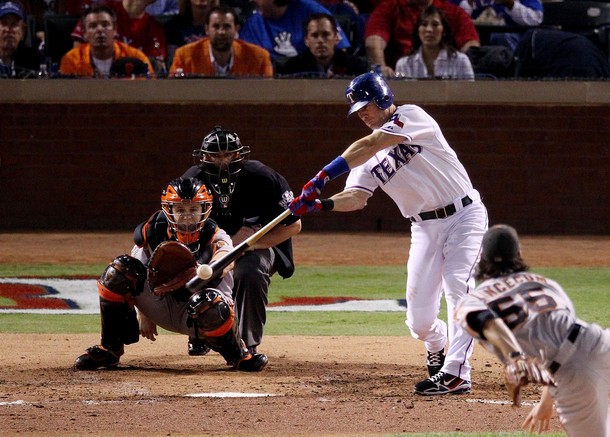 One would have to think that the Phillies payroll is already stretched to the max after they added Cliff Lee this offseason. But, did they maybe think that they could squeeze Michael Young in here from the Rangers?
According to Jerry Crasnick of ESPN, they at least thought about it. Crasnick says that three MLB sources told him that the Phillies had "brief" discussions with the Rangers regarding 3B Michael Young. But, his report also says that the talks didn't really go anywhere and that they are no longer active. So you basically just got me excited about nothing. Thanks, Jerry.
Young has demanded a trade out of Texas, saying that he was "manipulated and misled" by the team. He has a no-trade clause and has a list of possible teams that he'll accept a trade to. That list includes the Colorado Rockies, Los Angeles Dodgers and Angels, San Diego Padres, New York Yankees, Minnesota Twins, Houston Astros and St. Louis Cardinals. Most astute individuals will note that the Phillies aren't on that list.
However, Young said that he might be willing to go to a team that isn't currently on that designated list.
"As of right now, no. But I think those things are handled on a case-by-case basis," Young said. "Those are things my family and I would talk about and see what's ultimately the best fit for us."
The 34-year old Young hit .284 last year with 21 bombs and 91 RBI's.
I'm not thrilled that the talks are supposedly dead, but anything could still happen. Hey Nolan, what do you think of Joe Blanton? We have a World Series champion sitting right here for you! Just let us know!
Young is due $48 million over the next three years, so while it's fun to dream, I just don't see the Phillies having room on the payroll. Sure, if they sent Joe Blanton ($17 million between 2011 and 2012) and Placido Polanco ($5.16 million…I'd assume his name would come up) and whoever else to Texas (Ibanez?), it would certainly lighten the load. But, I just don't this happening.
Then again, I didn't think Cliff Lee was happening either.