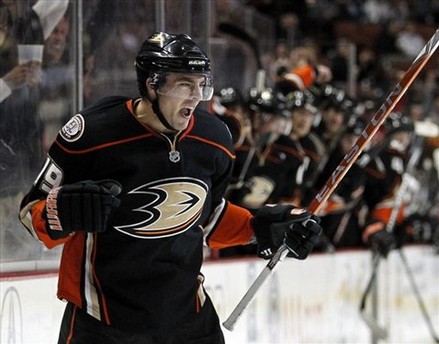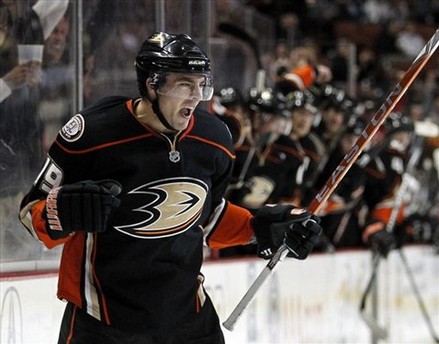 There isn't much to report on the Flyers front with regards to potential trades in the next three weeks, but several dominoes have begun falling today that may open up room for future transactions.
In the early afternoon, the Anaheim Ducks traded former Flyer Joffrey Lupul and highly touted prospect Jake Gardiner to the Toronto Mapleleafs for defenseman Francois Beauchemin. Lupul has been injured for much of his time in Anaheim, but is a solid 25 goal-scorer when healthy. The Leafs will likely come out big in this trade, as Beauchemin (who left the Ducks to sign with Toronto) has been very inconsistent for the last year and a half.
Lupul, who has matured somewhat as a result of his injury status, was apparently shocked that he was traded to his former general manager Brian Burke.
According to Yahoo!Sports, Burke recounted, "(Lupul) said, 'Why are you so excited to get me back when you moved me once?' I said, 'I moved you to get Chris Pronger,' and I think everyone would agree that move paid off. We had a parade."
In the late afternoon, it was officially announced that New York Islanders goaltender Kevin Poulin had dislocated his left kneecap and will be out for the remainder of the season. With Dwayne Roloson traded to the Tampa Bay Lightning and Rick DiPietro out for another five weeks thanks to a knockout punch from Pittsburgh Penguins backup Brent Johnson, the Islanders were left with Mikko Koskinen.
Koskinen let up two goals on the two first shots fired on him yesterday in his NHL debut. Katie Strang of Newsday tweeted that the Islanders were hoping to complete a "soft" trade for a veteran goaltender as a stopgap, and Michael Leighton was thrown out as a potential candidate. In the end, they traded a 6th round draft pick for Phoenix Coyotes prospect Al Montoya.
As of two hours ago, the Chicago Blackhawks have traded their fourth line center Jack Skille and some prospects to the Florida Panthers for center Michael Frolik and goaltender Alexander Salak. Salak is the real interesting bit to this story, as he is currently leading the Swedish Elitserien with a 0.925 save percentage.
If the Hawks think that they could survive with a Crawford-Salak tandem, then goaltender Marty Turco could be available in the near future.
There are a number of teams on the playoff bubble in both conferences, which has kept the amount of trades down before the deadline. As these trades continue, though, expect more general managers to start responding more liberally than they would like to.
One team to watch is the Colorado Avalanche, who have skidded down to 14th place in the Western Conference. Several teams, including the Flyers, have apparently been kicking the tires on goaltender Craig Anderson, who will be a free agent at the end of the season. I would be surprised if the Avalanche elected to send him off, as back up Peter Budaj is not a starting goaltender waiting in the wings, but stranger things have happened.