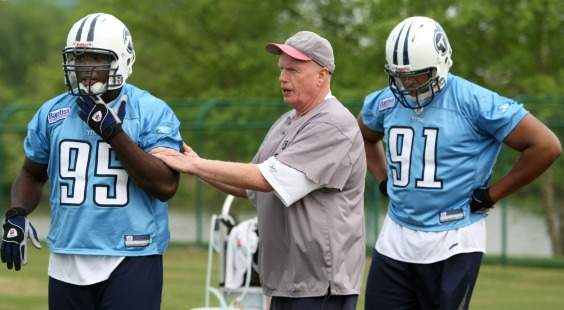 It's too bad Eagles new defensive line coach, Jim Washburn, wasn't on the Birds defensive staff last year because you could tell that a straight-talker like him would have told young Sean McDermott that he was making the defensive schemes too complicated.
A couple of NFL sources had stressed to me before McDermott was fired, that the number one complaint from the Eagles front office was that the young defensive coordinator was making the defense too complex.
With the veteran defensive line coach in place this year, the Birds won't make that mistake this time around.  "We'll play more attack" Washburn said. ….. It doesn't have to be complicated though. Sometimes I think we make it way too complicated – I don't think, I know. I think we want to let the players play."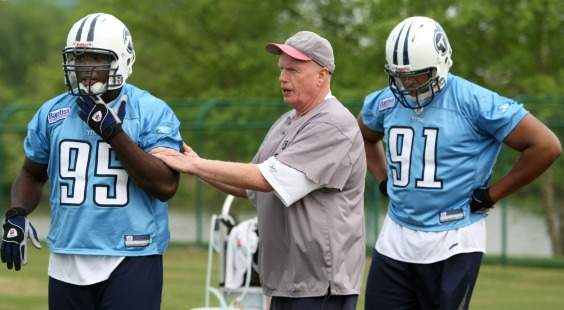 Washburn seems like he's gotten to a time in his life  where he's tired of dressing up the things he says.  That could get you in trouble in a town like Philadelphia. It's also the reason why I don't think the veteran defensive line coach will be talking to the media on a regular basis.
I was most impressed when Washburn talked about the unselfish attitude that coaches must have in order to win.  He talked about the coaches  abandoning individual goals and focusing solely on giving the players a chance to get better.  The veteran coach said they can't be trying to prove they're geniuses but simply try to find ways to help the team win.
Washburn then started emphasizing speed and how he wants his defensive line to perform.
"Play fast and play hard", Washburn said. "The faster you go, the harder you go."  The personable veteran coach talked about wanting his guys to turn it loose each time the ball is snapped.  There will be a method to their madness, but they'll be happy with creating chaos any way they can.
I think Washburn is a "cagey old fox", who tries to come across as a guy who is just having a good time and not really paying attention to everything.  But the truth of the matter is I could see he was sizing all of us up as he spoke.  You could hear that Washburn is a "motivator" as he used us to talk to his players.. It was if he was talking to us and his players were eavesdropping.
He started out bragging on Pro Bowl defensive end Trent Cole.
"My guys at Tennessee were sick of me talking about [DE] Trent Cole. I just cut something up of him. I think he's a bank, he's a really good player.
He's a guy I really screwed up on when I was evaluating college. I guess I just got lazy and didn't watch him. I think he had an ankle or leg sprain or something at the combine. But, he's a great player to me."
You know this will get back to Cole.
Next up he talked about last year's first round draft pick Brandon Graham's desire to play for him.
"He was my favorite dudes", Washburn said. "I liked him, I spent a day with him. When I left him before the draft, he said 'please, please, please draft me."
Then backup defensive end Darryl Tapp, whom Washburn says wanted to play for him.
"Darryl Tapp came up to me before we played Philadelphia and said, 'Hey Wash, I've been trying to get with you since the Senior Bowl when you coached me but I guess it's not going to happen.' I said, 'You never know what the Lord's got in store for you.' And lo and behold, so it's sort of cool."
You know he's knows veteran Juqua Parker.
"I coached [DE] Juqua Parker for three or four years. I do [like the personnel], I honestly do."
Next up was Brodrick Bunkley, whom Washburn studied when he came out in the draft.
"You take [DT Brodrick] Bunkley for instance, he was at Florida State – I got some ideas about defensive line play from a dude named Mickey Andrews. He was one of the greatest college coaches and all he did was attack, and that's what I like to do. So Bunkley did that at Florida State."
Washburn was taking Bunkley back to his best years in football, when he dominated on the college level.  You know the veteran coach will remind the defensive tackle of those years.
I think you get a taste of how Washburn will work with his defensive line.  He's going to treat all of them differently and look for any way he can to push, criticize, coerce, beg,  hug or compliment them to the next level.