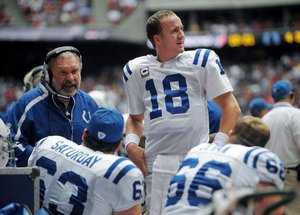 Eagles new offensive line coach Howard Mudd was in charge of protecting a "human statue of a quarterback", Peyton Manning for more than a decade in Indianapolis.
Now that he's come out of a one-year retirement his job will be to protect Michael Vick, maybe the best athlete to ever play the quarterback position in the NFL.years, but Mudd doesn't plan on changing anything in his coaching despite change in quarterbacks.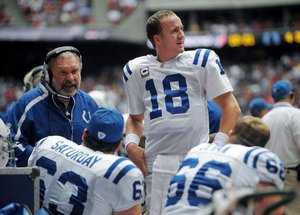 "I think our responsibility is that there is a throwing spot back there and if he makes a decision to take off and run somewhere, that's his decision to make", Mudd said regarding Vick. "Let's get the first spot protected and let him be comfortable at that spot, keep the pressure off him at that spot."
The long-time NFL coach with the impeccable reputation isn't going to concern himself with having his offensive linemen attempt to understand or anticipate where Vick is going to run if decides to abandon the pocket and run for  a first down.  "If he can use his athleticism to make plays for some other reason, or if everyone is covered and he makes plays, we're going to protect one spot. If you start worrying about where he's going to go, you're going to grab a hold of somebody's shirt and you'll have a holding penalty. Let him do what he does and we'll do what we do."
The former Indy offensive line coach who was retired for a year and living in Arizona, will bring his knowledge of running an offense without a huddle to the Eagles brain trust.  The Colts give Manning the freedom of calling the play at the line of scrimmage, which meant Mudd's offensive
linemen would have to know a series of codes and checks.  I expect Reid and Marty Mornhinweg to try to incorporate some of that method into the Birds offense.
The Birds new offensive line coach could be a great help to Vick by sharing with him some of the secrets Manning had when it comes to reading secondaries.  You can tell by the pictures and studying them during games, Mudd worked hand in hand with Manning.  I would love to see the Birds go to more no huddle offense, which would put defenses in a touch situation with tired defensive linemen trying to catch the speedy Vick.
Mudd will stress consistency.  He's going to train these guys techniques that he will ask them to perform repeatedly so that it becomes muscle memory.  "We kind of do the same thing over and over and over", Mudd said while sounding like former Juan Castillo. "Maybe there are other ways to do it that are a little better. We know that the way we do it works for us, so we keep repeating that same pattern because it's successful. I don't try to change a whole lot. Keep it simple. Do a few things and do them extraordinarily well. That's kind of going to be our motto."
I expect Mudd to encourage Reid and Mornhinweg to run some stretch plays with LeSean McCoy.  The Colts mastered that stretch play and brutalized the Eagles a number of times during the years with it.  It's a great play when combined with a play action passes of it.
The quarterback doesn't give the ball to the running back until he's deep in the backfield and that makes it very difficult to read.  Manning has run the stretch run and stretch run play action pass to perfection.  I expect Vick to be running those plays before the year is over.
The former Indianapolis Cots offensive line coach has known the Eagles head coach for a long time, as well as the team's offensive coordinator.  "[Head coach] Andy [Reid]. I have known Andy for 22 years" Mudd told reporters. "He was a young assistant coach for Bob Stull at University of Missouri. He came over [when I was with the Chiefs] and wanted to know about what I did and why I did it and stuff like that. We spent a lot of time that one year there. I went over and spoke at their spring clinic and got to know him. Then he ends up leaving and Marty Mornhinweg was then the offensive line coach. He asked me if I would spend time. [Reid] was in Green Bay and we maintained contact."
At times I believe all NFL coaches worked with every other NFL coach at some point in their careers.