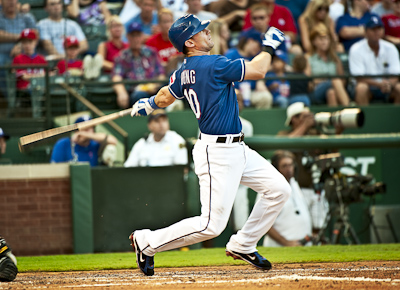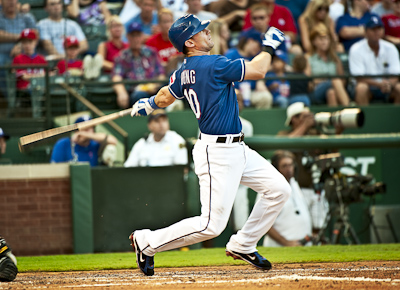 For those who don't know, the Texas Rangers appear to be prepared to unload the contract of Michael Young before the season starts. Just as every team faces when planning to deal away a player, the Rangers need to find a team willing to take on his contract, which could cause for difficulties considering that many teams are content with their rosters heading into Spring Training.
ESPN's Jerry Crasnick recently reported that the Phillies contacted the Rangers to express interest in the infielder.
Stop right there.
There's no part of me that feels the addition of Young would help this team, and I'm sure many fans would agree with this notion.
His career .300 average looks good on paper, but there's plenty of reasons to dismiss this subject.
First, there is no position available besides right field. Unless he would be willing to move to right field, there's no reason he should be considered as a potential replacement for Placido Polanco, who batted .298 with 52 RBI's in 2010.
Even if he would agree to switch positions, I still wouldn't be sold on the move. I don't believe his presence would drastically improve the offense, and his existence would only stunt the growth of Domonic Brown and John Mayberry Jr.
I've heard the idea that his advent could prove to be the spark that Jimmy Rollins needs to revert to his '07 self. But would the addition of a 34-year old shortstop really be a cause for concern for Rollins, who has been in the Phillies' organization since 1996?
Second, he's not getting any younger (no pun intended). At 34 years-old, his days of batting  above .300 are long gone. In 2010, Young batted .284, which was just the fourth time in his career he batted sub-.300.
Seeing that he is 34, I can't envision him having success making a transition to the outfield. And if he somehow would be able to make the adjustment cleanly, I don't think he will provide any more than Brown or Ben Francisco could.
Then there's the contract concern. He is slated to receive $48 million over the next three seasons, and his arrival would force the Phils to pay an estimated $7.5 million extra.
Personally, I don't want the Phillies to dig deeper into their already tight pockets, especially for someone who is declining in terms of production.
And then there's the issue of who would the Phillies deal to acquire Young. The most likely candidate would be Joe Blanton, who could be replaced by the likes of Kyle Kendrick or Vance Worley.
Losing Blanton wouldn't destroy the Phillies, but losing him for Young wouldn't be the smartest of moves. Keeping Blanton would be the best circumstance for the rotation because his ability to eat innings will be greatly appreciated toward the end of the season when the Philles' aces begin to turn their attention to the playoffs.
To sum it all up, the acquisition of Young, a six-time All-Star and former Gold Glove winner, would look great on paper, but in terms of improving the team, his arrival wouldn't signify a major upgrade, especially for the price tag that hangs over his head.
But this is just my take on it, what are your thoughts on the rumor?