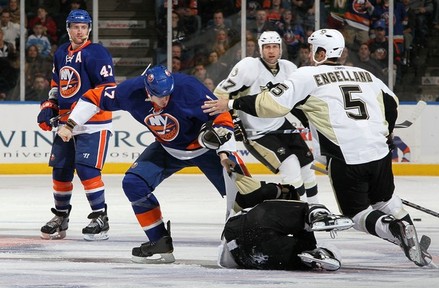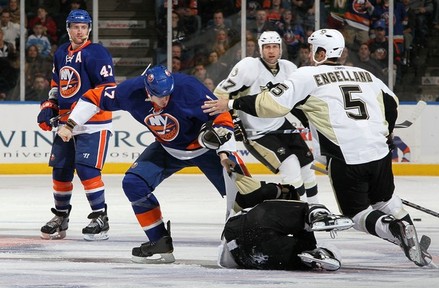 The Flyers have had a reputation for being thugs and goons for most of their existence, but lately the wild behavior has come from other teams. The Flyers, in fact, rank 15th in fighting majors behind, of all teams, the Pittsburgh Penguins.
The Boston Bruins made a statement on Thursday night against the Monteal Canadiens, not only beating them on the scoreboard 8-6 but beating them physically in a ridiculous fashion. Starting with captain Zdeno Chara, the Bruins exposed the Canadiens for their lack of size and grit by challenging them throughout the game. Even goalies Tim Thomas and Carey Price felt the need to go at it in support of their teammates, although it was more for show than anything.
182 penalty minutes were doled out in that game.
The New York Islanders, meanwhile, have gone from being the "doormat" of the NHL as Zenon Konopka so eloquently put it to the league's hillbilly, out of work, drunk cousins. In retaliation for a loss that saw goaltender Rick DiPietro get one-punched by Penguins back-up Brent Johnson and Blake Comeau get concussed by Max Talbot, the Islanders decided to send a message.
That message included Trevor Gillies knocking rookie Eric Tangradi (a native of Philadelphia) in the head and then pummeling him while he was on the ice, as well as Matt Martin drilling Max Talbot in the back of the head repeatedly. Isles rookie, Haley, was also involved with a number of scraps, including a fight with Johnson that was interrupted by Pens enforcer Eric Godard, who jumped off the bench to defend his goaltender.
As a result of the mess, which NHL Vice President of Hockey Operations Colin Campbell described as "scary," Trevor Gillies is suspended for nine games while Matt Martin is suspended for four games. None of the coaching staff for either team was fined, but the Islanders organization was fined $100,000. Isles owner Charles Wang, who has kept general manager Garth Snow on a tight budget financially, is undoubtedly angry, to say the least.
Godard was handed the automatic suspension of 10 games that comes with leaving the bench to "instigate a fight." To be honest, I hate that rule. It limits the players' ability to police themselves in situations that get out of control.
Saturday was more muted than the rest of the week, but that didn't prevent P.K. Subban from trying to redeem his manhood against former Flyer Joffrey Lupul . Subban, who has enjoyed his role as an instigator thus far this season, didn't realize on Thursday that you may have to answer for your antics in that role and has since learned his lesson.
It's amazing how, with everything going down this week, the New England Sports Network named Chris Pronger the third dirtiest player in the NHL. I have absolutely no idea what they based it on this season, but they are likely looking at past discretions rather than what's actually going down on the ice.