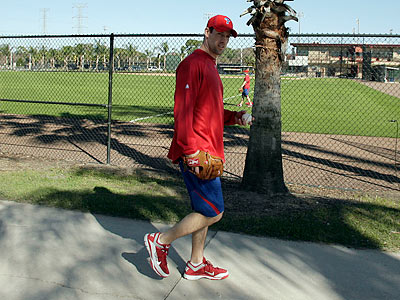 It's pitchers and catchers today for the Phillies in Clearwater, Florida and the excitement and expectation in the air is palpable. Many Phillies fans are already getting fitted for the 2011 World Championship Philies' jackets, but not everybody is ready to assume a championship will be in the cards.
Phillies pitching coach Rich Dubee isn't buying any of that championship talk, despite the fact that he has Roy Halladay, Cliff Lee, Roy Oswalt and Cole Hamels on his starting pitching rotation. He wants everybody to slow down and realize that the Phillies are going to have to go out and get the job done before there will be any parade.
As Dubee sees it, nobody's going to give them anything regardless of how much talent they have on their pitching staff.
"We have to curb our excitement a little bit, too," Dubee said media members yesterday in Clearwater. "We still have to play baseball. I mean, we are absolutely thrilled with our starting rotation. You can't downplay that. I don't think anyone who has ever seen baseball would downplay it. But the
fact of the matter is we have to play 162 games and play up to our potential."
The truth of the matter is that he's right. The Phils must focus on handling their business. It starts with the attention to detail.
Let's make it plain. Nobody can beat the Phillies but the Phillies. If they go down to Florida and start celebrating before the season starts, they'll get beat. On the other hand, if they prepare like underdogs and leave no stone unturned, they'll probably be riding on a float in the parade in November. Dubee knows this and will work to keep his stars focused.
"But there's still work to be done. These guys are good professionals and they know themselves. But at times they get out of whack and might need a slight adjustment. There's still growth there. Look at Cole. He's still growing. He added that cutter last year. Both Roys improved their changeups last year. So these guys are still evolving."
The players know what is expected of a squad with an All-Star starting pitching staff and three potential Hall of Fame players in their everyday lineup.  Closer Brad Lidge didn't beat around the bush, he got right to the point yesterday.
"Every guy in here feels we need to win the World Series this year," Lidge said.
This afternoon the pitching staff and Dubee with hold a news conference in Clearwater and we'll be viewing it and chatting about it here on GCobb.com, so make sure to come back and join us at 1pm.