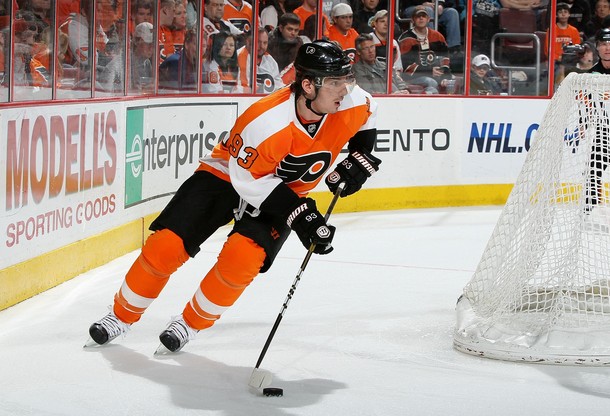 Well, that was an interesting experiment. The Philadelphia Flyers have announced that they have placed Nikolay Zherdev on waivers.
"It had eroded to the point where they wanted to see what else is out there," Holmgren said.
According to Frank Seravelli of the Daily News, Zherdev declined comment on the situation.
Zherdev came to the Flyers as a risk/reward guy. Sure, everyone knew that he was talented, but he had a reputation for not always playing well with others. He loved to get his goals, but don't ask him to buy into a system, play defense or bust his rear end.
Funny enough, the Flyers got exactly what they expected. He has 15 goals this season and has shown that, when on the ice, he can be productive. But that's the problem. He hasn't been on the ice for a while now. And it's mainly because of his selfish play. 15 goals are nice, but four assists? If you are that productive on the offensive end, you'd have more than four assists. That's pretty bad.
But, Zherdev was forced to sit and now he and his agent want to be done with the Flyers so he can explore other opportunities.
"His agent and Nik, they obviously weren't very happy with the situation here," Holmgren said. "They asked us for other options. Nothing really came of that through trade. We'll see what happens at noon tomorrow."
What's it tell you when no one else really wanted any parts of him either?
Holmgren was then asked about any future that Zherdev might have with the team.
"That's a topic for another day," he said. "It doesn't necessarily mean anything. The request came to me to get him to another team and I'm following up on it."
Holmgren was asked exactly what happened with the whole Zherdev situation.
"I'm not sure, I think about this all the time," Holmgren said. "It was kind of an experiment to bring him here and see what he can do. There were periods of time it was good. He had 15 goals in limited power-play time and limited minutes.
"But over the course of time here, things have eroded. Nik's work ethic has probably dropped off. Right now he's just not fitting in. We'll see what happens. I think everyone wants to play and I don't think he's any different in that regard. The fact that he wasn't playing, maybe he didn't respond the right way a lot of times."
Good player, bad attitude. Pretty much what the Flyers thought they were getting in the first place.