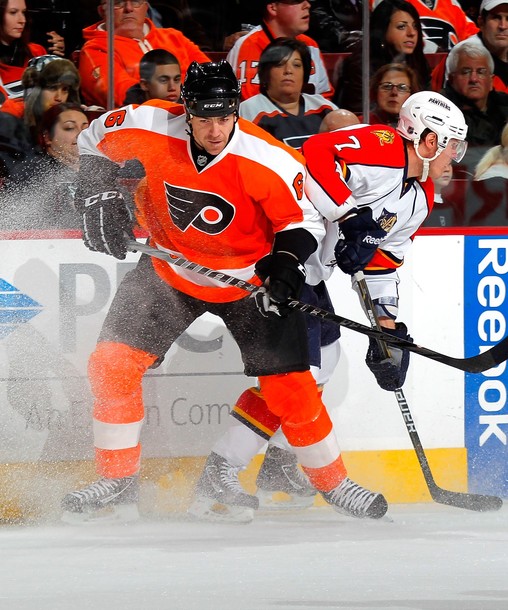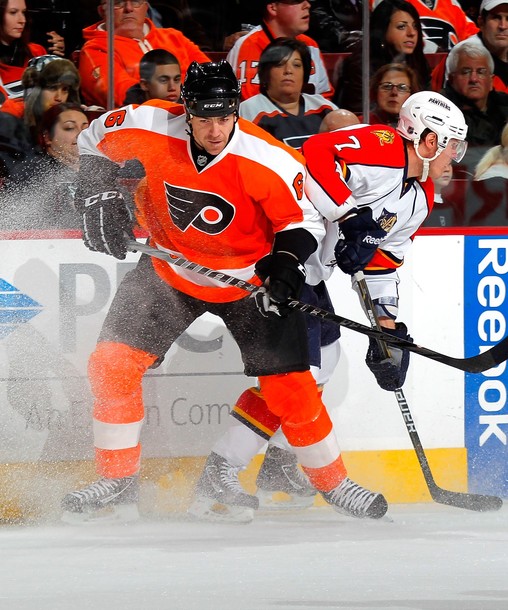 The most shocking news of the day (which really wasn't all that shocking) was that the Flyers placed troublesome forward Nikolai Zherdev on waivers. I'm not going to discuss that any further than what Micah had written earlier in the day, but there has been a flurry of other discussions that have popped up since with regards to the health of the team.
For starters, defenseman Oskars Bartulis is out indefinitely with "shoulder instability" after taking an awkward hit into the boards from former Flyer Scottie Upshall in Tuesday's game. Upshall has since been suspended two games for the infraction, although I think that's overkill for a penalty that was called correctly by the referees (for a change).
If any readers have a medical license, I'd appreciate clarification on what exactly "shoulder instability" is.
As I posted last night, the Flyers are expecting defenseman Sean O'Donnell to return for tomorrow night's tilt against the New York Islanders, just three days after the team announced he'd likely be out of the line-up for ten to fourteen days. I have a bad feeling that they're rushing him back sooner than they should be, but hopefully the team doctors know what they're doing.
There was speculation that defenseman Matt Walker could make his return to the line-up with the injury to Bartulis, but he is now apparently out for another month with a knee injury. Add that to two hip injuries he's already endured this season and ask yourself, "was Simon Gagne really worth this?"
That leaves youngster Erik Gustafsson and veteran AHLer Danny Syvret as the next defensemen on the depth chart. For what it's worth, I am a big supporter of Syvret and would like to see him get an extended shot in the NHL someday. He's very underrated and has been playing long enough to know what it takes to play with the best.
There have been reports circulating the internet that the Flyers aren't comfortable with the depth they have, though, and are now looking to add a veteran defenseman as insurance for the playoffs. The name I've read the most often is Colorado Avalanche defenseman Adam Foote. Foote, 39, is currently on injured reserve with a foot injury (no pun there) and has 0 goals, 8 assists, and is a -8 for the season.
I don't think acquiring Foote is the right solution, although the Flyers could probably grab him for a late draft pick if they felt so inclined. The truth is that they don't have much left to offer any team unless they start moving prospects, and that cupboard's pretty bare as it is.
The only other option is to think outside the box and sign players outside of the league, like Lukas Krajicek. After last year's Stanley Cup Finals, I don't think that's a route the team would like to explore further.
The NHL trade deadline ends at 3 PM on Monday, February 28. That leaves Homer less than five days to figure out what he's going to do, if anything, to further bolster his defense.