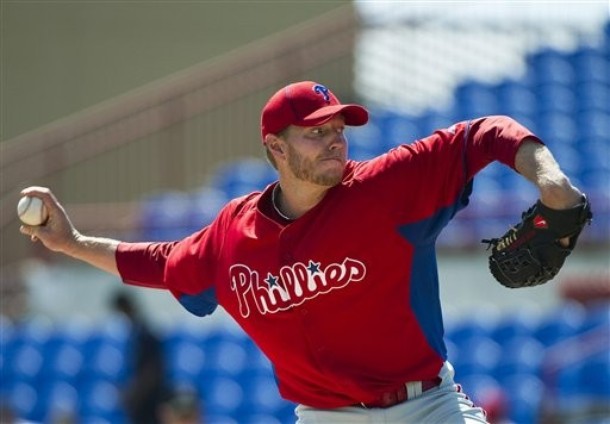 Last season, Roy Halladay pitched a perfect game. He threw a no hitter in his first playoff game, and he won the Cy Young Award, which goes to the best pitcher in each league. Add all of that on top of his already amazing career, and you would think that Halladay has totally perfected his craft by now.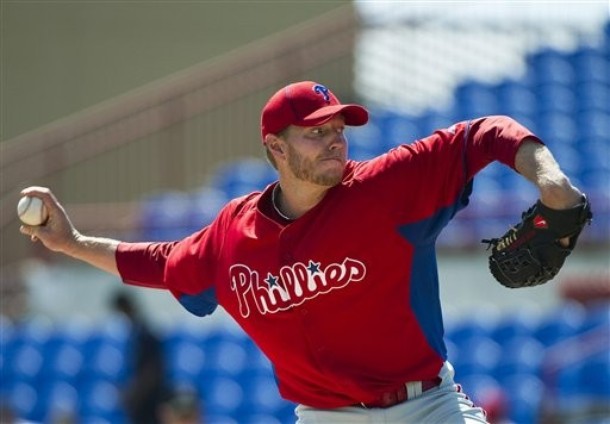 But in his 13th season in the majors, Halladay is still tinkering with his game in order to improve it, which is a bad sign for the rest of the National League.
A week ago it was reported that Halladay was adding a wrinkle to his game, and was working on something new this spring. He refused to tell reporters after his spring training debut what it was. But according to Matt Gelb of the Philadelphia Inquirer, Halladay's new weapon is going to be an increased use of his change up. He has been struggling to find a change up grip he feels comfortable with during his whole career, according to Gelb.
But based on what Carlos Ruiz said after a recent bullpen session with the Cy Young winner, he may have finally found it.
"This year, it has unbelievable movement" Ruiz told Gelb days before he returned home for the birth of his new son. "The change up is better every day."
If Halladay can feel confident in his change up this season, it will only make him a more dangerous pitcher. The ace has increased the
amount of times he threw the change up each of the last three seasons.
Halladay, Cliff Lee, Roy Oswalt and Cole Hamels all said that having each other around will only make them work harder to improve, and it is showing already by Halladay adding to his pitching arsenal.
I don't think it's a coincidence that there are other aces on the Phillies staff with dominating change ups. They obviously got Halladay's attention.
His long hours spent in Clearwater even before the team arrived for spring training are already becoming legendary in the Phillies organization. You can tell that he's already affected Hamels and his commitment to the game.
Pitching coach Rich Dubee said Hamels had come to camp in such great shape that he was ready to start a game when he arrived at spring training.
Members of the Phillies pitching staff have talked openly about soaking in all the knowledge they can from this future Hall of Famer, but we see that Halladay is also picking up some things.
So fittingly after having astonishing first season with the Phils and another hard summer of work, it appears that Halladay now has even more to share with the other Phillies pitchers, especially the young ones.