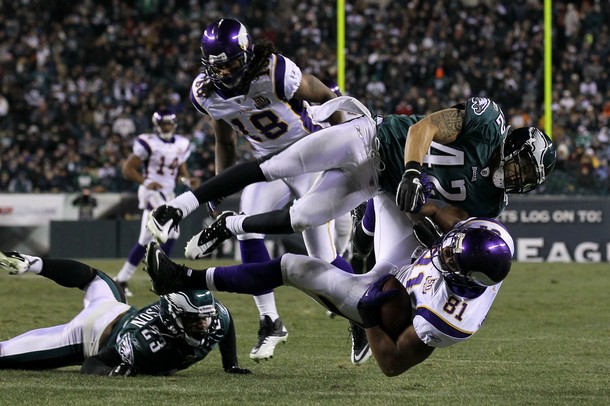 Last summer, DeSean Jackson declared that it was time for the "young guns" to take over the team.
During the season, that came to be true, as Jackson, Jeremy Maclin and LeSean McCoy all had great years in leading another explosive Eagles offense. Yes, it was all supposed to happen with Kevin Kolb at the helm. That didn't work out, but with Michael Vick, this offense is truly full of the "young guns" Jackson talked about.
The young players showed they could get it done on the field. But this off season will truly show how dedicated the young members of this team are to winning,especially on the defensive side of the ball.
A lock out is coming in the NFL, in some form or another. How long the lockout will happen, or what it will look like, is still not known. Even Coaches and GM's are not sure about how this will effect their team.
But one thing is sure- we will learn a lot about the young members of this team this off season.
Look at the Eagles roster, and you will find youth all over it. On the offense, players like Jackson, Maclin and McCoy will have to make sure that they continue to do the preparation necessary to stay on top of their game. Jackson was accused of running sloppy routes late in the season by members of the media. Will he put in the work this off season to improve that despite the lock out?
Then there is of course the question of Michael Vick. This is his first off season back as an NFL star, and he most likely will not be allowed to talk to Andy Reid- the man who he credits for making him into a more professional player. We all know at the end of the season that Vick was having trouble recognizing the blitz. It is important that Vick puts in a ton of time in the film room this off season, as opposing defenses now have a full year of tape to study of "Michael Vick 2.0"
When Vick put himself into a bad situation last off season in Virginia, it was Reid he called in the middle of the night. This off season,
Reid will not be allowed to pick up the phone. It will be up to Vick to keep himself out of trouble, even though most of the structure the Eagles built around him the last two years will be gone.
On the defensive side of the ball, Brandon Graham, Nate Allen, Antonio Dixon, Kurt Coleman, Jamar Chaney, and Trevard Lindley all figure to play big roles next season. All of those players are also entering there second year, except Dixon- who is entering his third.
Graham and Allen are recovering from knee injuries. Players usually make their biggest jump from the first year to the second year, but these two rookies will have to find a way to make that jump despite the knee problems.
Graham is not expected back until part of the 2011 season is completed. He'll have to take the challenge of getting ready to play in a hurry. He won't be able to develop his game during the off season with drills or during training camp and preseason games with live action.
He's facing a tough challenge because he must solve his size deficiency and arm length disadvantage with his quickness, speed and tenacity. The Eagles can only hope that he hits his stride as the season gets to the half way point. He must work on his game mentally before he gets the chance to physically get out on the field.
Allen is expected to be back by training camp. Hopefully he won't have any setbacks and can push himself to take his game to the next level. The young safety must recognize plays, formations and routes quicker than he did a year ago. I also want to see him attack ball carriers better by giving them one way to go and tackling them aggressively on a consistent basis.
Chaney, Coleman and even Lindley could find themselves starting from game one. It is going to be hard enough with a new defensive coordinator in Juan Castillo to get all of the players on the same page, but with the coaches not able to contact their players during a lock out, it will be up to them to stay in shape and continue to grow.
Will Lindley still make sure to watch tape? Some say his inability to grasp Sean McDermott's "complicated" defensive scheme was one of the main reasons McDermott got fired. The Eagles can not afford to spend another season trying to explain the defense to Lindley. He needs to hit the playbook this summer and come ready to play. A defensive player becomes a game changer when he can trust his instincts, and that comes from preparation.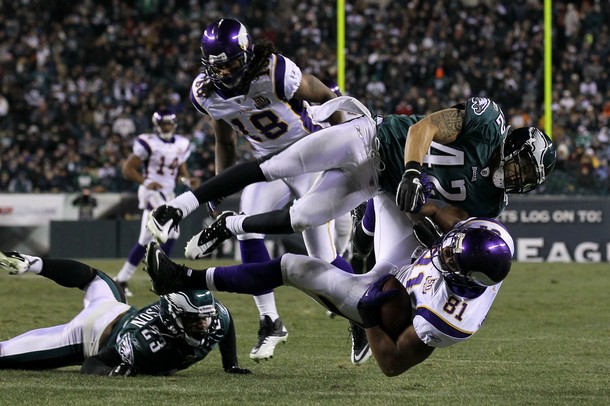 The unfortunate part is, these players are entering there first off season as true NFL players. It will be up to them to reach out to veteran players for advice on how to not fall behind. The Eagles can not afford to have a player such as Dixon come into training camp (assuming there is one) out of shape.
Even worse, what if there is no training camp, or a shortened version of one? Then it will be even more important the players come back in shape and ready to go.
No one knows what the NFL season will look like next year, but this year more then ever, the team that spent the off season preparing the best will truly have a heads up on the rest of the competition.
There is an old saying that success happens when no one is watching, when it is just you and the workout.
This off season in the NFL, that has never been more true.