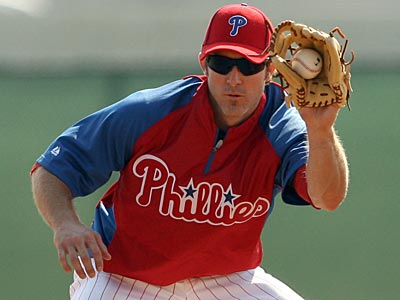 As exactly one week of spring training games have gone in the books, there has been three different hot button issues regarding the Phillies that people all over town have talked about.
They're Jayson Werth's allegedly making more comments regarding his former squad, Chase Utley's patellar tendonitis injury and the
continued struggles of Domonic Brown.
While it's early in spring training and the Werth story may not even be true, I can't help but offer my opinion on the three matters.
On Werth:
The last post I wrote a week ago dealt with Werth's well-documented comments about how he thought the Phillies could've kept him and had Cliff Lee at the same time.
Well this past Sunday, Washington Post columnist Thomas Boswell came out with a piece about how the right fielder might be able to bring the "swagger" the Phillies have over to the Nationals.
About halfway through the column, Boswell mentions a conversation he heard Werth and Natoinals general manager Mike Rizzo having behind the batting cage one day at practice.
Rizzo allegedly said, "I hate the [expletive] Phillies."
Apparently, Rizzo followed that comment by listing examples of "dirty plays" the Phils have committed over the years.
According to Boswell, Werth responded to Rizzo by saying, "I hate the Phillies, too."
Once this story surfaced, Rizzo came out and denied the comments to the Philadelphia Daily News by saying, "As far as the quote, yeah, that was either taken out of context or [Boswell] didn't hear it right."
Assuming Boswell, a baseball columnist for decades, heard correctly, Werth's quote adds another foolish remark of already annoying commentary from him over the last month.
Now, Werth has previously made public that he has no disdain for the Phillies after them not re-signing him. However, if he does in fact dislike the Phillies, that's severely uncalled for due to what the team did for him over the past four seasons.
Should Werth hate the team whose then GM Pat Gillick resurrected him from obscurity prior to the 2007 season?
Should Werth hate the team whose manager gave him a chance to earn the full-time right field starting spot by having him platoon with already proven hitter Geoff Jenkins at the start of 2008? Oh, and by the way, that same manager personally selected him to be a member of the 2009 NL All-Star team.
Lastly, should Werth hate the team he won a World Series with in 2008?
The answers are no, no and no.
As Werth's tenure in Philadelphia progressed, he developed a pre-game ritual with the right field fans prior to the start of every home game.
The people in the right field seats always greeted Werth with cheers as he approached them after running out of the dugout.
He responded with a tip of the cap and a raised, clutched right fist signifying it was time to take care of business.
It was truly a special bond he shared with those particular fans before every home game.
Well, the Phils first home game against Washington this year is Tuesday, May 3. Whether or not Werth's comments were valid, it's definitely appropriate to boo him rather than cheer like in the past.
But in actuality, Phillies fans don't have to wait all the way until May 3 to do that. They can boo him on April 12 when they invade Nationals Park for the first road game against the Nats in 2011.
On Utley:
Stating the obvious, Utley's spring training injury is a bad sign of things to come.
At first, his absence was reported as typical "soreness." Yet, being sore doesn't require an MRI, which is what Utley received.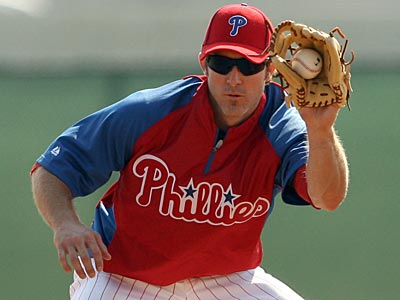 It was then determined that Utley has patellar tendonitis.
Now, by no means am I a doctor, so I don't know how severe this injury is. But, I do know Utley has been injury riddled over the past four seasons.
In 2007, a year where he hit a stellar .332 and had a .410 OBP, he missed time late in the season due to a broken bone in his right hand after getting hit by a pitch.
In 2008, he played with a hip injury for a better part of the second half of the season all the way through the World Series victory.
Flash back and recall how Utley was killing the ball in the first half of 2008 and that everyone assumed he would win the NL MVP, making it three straight years a player from the Phils won that award.
In his first 82 games, he hit .297 with 23 home runs and 65 RBIs.
But, when the injury started to emerge, his production numbers dropped. In the last 77 games, his batting average was .286, but he only had 10 home runs and 39 RBIs.
After the 2008 season, Utley got hip surgery and thus, in 2009 really didn't suffer from any significant injuries. He had had a solid season, hitting .282 with 31 home runs and 93 RBIs.
But last year in late June, he sprained his thumb trying to stretch a single into a double and spent one and a half months on the disabled list. Along with missing a significant amount of time, he had the worst statistical year of his career, batting .275 with only 16 home runs and 65 RBIs.
The patellar tendonitis he currently has didn't result from anything that happened in a regular season game. He didn't get hit by a pitch, slide awkwardly into a base or anything else related to that.
Truthfully, no one really knows how this happened. But we can assume that the tendonitis is a combination of Utley giving 150 percent effort at all times throughout his career and the fact that he's getting up there in age at 32 years old.
No matter what the reason is, it's a bad sign when players are hurt during Grapefruit League play because that means they're using the early months of the regular season as their spring training. Perfect examples of that are Cole Hamels in 2009 and Brad Lidge in 2009 and 2010. Both guys struggled during those seasons, despite Lidge's improvements as 2010 came to a close.
So, what are options for Utley just in case he's not ready come April 1? Right now the simplest and most realistic is Wilson Valdez. While his offense is nothing to brag about, his defense is stellar.
Also, the Phils could start trade talks again with the Texas Rangers about third baseman Michael Young. That probably won't happen, but assuming it did, Placido Polanco would move to second while the right-handed Young would play third. The only thing is when Utley does return to the lineup, the team would have a three-year $37 million contract on the bench.
Regardless of what happens, cross your fingers that Utley gets healthy soon and has a stellar 2011. He's going to need it.
On Brown:
Another one of my prior posts dealt with who should replace Werth in right field —Brown or Ben Francisco?
My stance was they should platoon because Brown needs major league experience and Francisco has been an average hitter over his career.
While it's still early on, I'm not afraid to admit I may have been wrong.
Brown has struggled mightily so far in Grapefruit League play as he's batting a whopping 0-15. Not to mention, he played poorly in winter ball, hitting 2-29. So, that means he's only gotten two hits in his last 45 at bats, good for a .044 batting average.
Francisco, on the other hand, has been the Phillies best hitter in spring training so far. He's batting .375 with a .444 OBP and a .750 slugging percentage. In his 16 at bats, he has four runs scored, a double, a triple, one home run and five RBIs.
If he keeps this up and Brown continues to struggle, I think the starting right fielder job will be his.