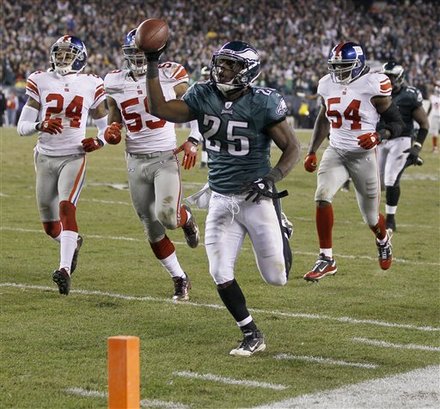 I've resigned to the fact that as long as Andy Reid is the head coach of the Philadelphia Eagles, the run/pass ratio is going to be lopsided in favor of throwing the ball.
While everyone knows what Reid's offensive philosophy is, is it too much to ask the running backs to rush the ball 20 times a game? Just enough to keep opposing defenses honest, please.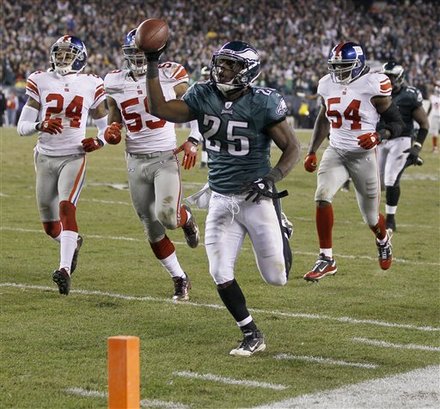 It is true that the Eagles were 5th in the league in rushing, with 2324 yards. But, if you take away quarterback runs by Michael Vick and Kevin Kolb, they would've ranked 24th.
Even when subtracting QB runs, the Eagles would've led the league in yards per rushing attempt. Therefore, it's difficult to fathom why they seem to abandon their ground attack.
Although it's not the most talked about part of the roster, the Eagles must address their running back situation with two of their three halfbacks schedule to be free agents.
Let's take a look at the Eagles current running back roster.
LESEAN MCCOY
In his second year, McCoy has shown that he can be a star in this league. He's made the transition from Brian Westbrook a very smooth one and he's still improving.
Not only did McCoy rush for over 1000 yards, he also led the team in receptions with 78. They main thing McCoy must continue to work on is pass protection and picking up the blitz.
Whenever the CBA deal is reached, look for the Eagles to offer McCoy and extension.
JEROME HARRISON
Although trading for Harrison was a huge improvement over the failed Mike Bell experiment, he was still severely underused.
His numbers show 40 carries for 239 yards, but 208 of those yards came in two games and half the carries were in the meaningless season finale against the Dallas Cowboys.
I don't expect Harrison to be an Eagle in 2011.
ELDRA BUCKLEY
During the past two preseason, Buckley has looked like a missing link. He's a between the tackles runner who many thought could be counted on in short yardage situations.
Over two years, Buckley has rushed 36 times for 111 yards. Another key stat is he's only picked up 8 first downs.
One thing that keeps him on the sidelines is he can't be counted on in the passing game.
While Buckley is a good contributor on special teams, he can be replaced. It's been reported that he's been tendered as an exclusive rights restricted free agent. If he plays football in 2011 it will be in Philly.
LEONARD WEAVER
Before his severe injury in the 2010 season opener, Weaver was the best fullback in the NFL. In addition to his blocking, he was a reliable receiver and rusher.
The problem with Weaver is his knee injury may have put his career may be in jeopardy.
He is a man of strong faith and believes he'll be ready for the 2011 season. But, the Eagles front office can't share that same belief. They have to be prepared to move on without him if necessary.
OWEN SCHMITT
The Eagles couldn't have found a better replacement at fullback, especially after the season began. Luckily, the Seattle Seahawks new coach Pete Carroll doesn't use a fullback and released Schmitt.
The 2008 5th round pick from West Virginia has great size (6'2", 245lbs) for the position. He's not a rushing threat but he can be counted on to catch a reception every now and then.
Schmitt could benefit from a CBA deal being reached ASAP. If there is a training camp, he could get more acclimated to the Eagles offense which will lead to more reps.
2011 Forecast
First things first, I think it's safe to say McCoy is the Eagles feature running back and hopefully will be in Philly the next 7-8 seasons.
A key to keeping him as healthy is possible in having backups who can be counted on to share the workload. With the Eagles offense this is just running the ball, of course.
Pass protection and special teams ability will be a must.
In free agency, the Eagles could pursue Oakland's Michael Bush and/or Indianapolis's Joseph Addai. The concerns are Bush probably wants to start somewhere and Addai has trouble staying healthy.
Andy Reid likely will draft a running back in the mid to late rounds. Derrick Locke (Kentucky), Noel Devine (West Virginia), Da'Rel Scott (Maryland) or Mario Fannin (Auburn). One of these guys will be selected by the Eagles in late April.