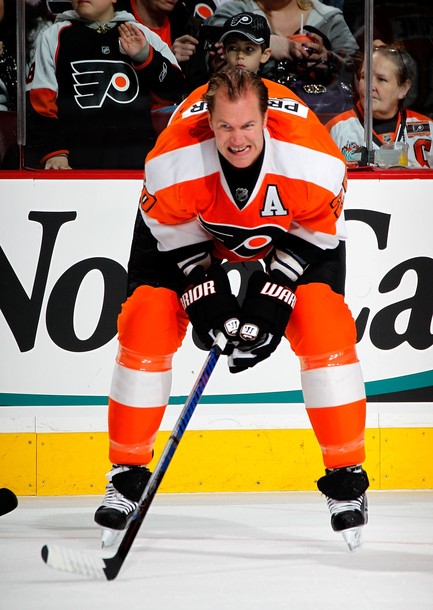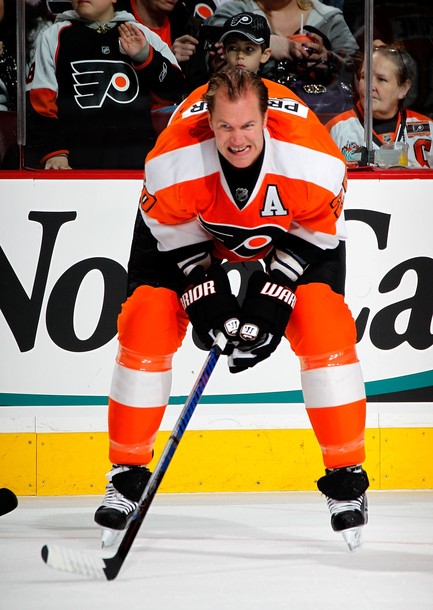 Flyers defenseman Chris Pronger is questionable for tonight's contest with the Atlanta Thrashers while he continues to nurse his hand injury. Pronger was struck in the hand with the puck during the February 24 overtime win against the New York Islanders and missed the following game against the Ottawa Senators, allowing for rookie Erik Gustafsson to make his NHL debut.
Pronger made it back into the line-up later that week, but once again sat out this past Thursday against the Maple Leafs.
At this time of the season, it's better that the team rest Pronger if there's anything that could keep him from playing at 100% in the playoffs. Like most players, he's probably eager to jump right back in, but the organization is playing it safe for the time being.
Pronger was the focus of some recent news stories which followed up on his calling out Claude Giroux, of all people, for turnovers after the team's 4-1 win (yes, not 3-1) against the Edmonton Oilers. I was surprised that Giroux would have been the player to be put on notice, as he has consistently been one of the hardest working players on the team. If there's anyone on the team who needs to refocus, it's Pronger's old pal Sean O'Donnell.
O'Donnell, who was teammates with Pronger when they won the Stanley Cup in 2007, was signed as a free agent last July. At the time, he explained to fans what they could expect to see from him. "I've been a plus player pretty much my whole career, so I'm responsible in my own end. I think I calm things down. You're not going to see a lot of flashy stuff, and I think it's going to be one of those games where you don't notice me, but that's a good thing- after 10 or 15 games, you're like, 'You know, we've never really talked about this guy, but he's been there every game.' "
O'Donnell has been an asset for this team over the course of the season, but lately he has been getting burned much more noticeably. Some of his recent misgivings were a result of missed coverage while in other cases, he just wasn't able to control his man in the defensive end. On Thursday, fourth liner Mike Brown weaved in and around O'Donnell like a sewing kit and fed the puck to former Flyer Joffrey Lupul to cut the Flyers' lead to one goal. It was embarassing to watch and should serve as a wake-up call for OD to get back to basics.
If Pronger remains out, Nick Boynton will once again take the ice as the sixth defenseman. On Thursday, Boynton filled the role that O'Donnell usually carves out for himself- the quiet, fairly unnoticeable defenseman that nobody is talking about. Hopefully O'Donnell can follow his lead.