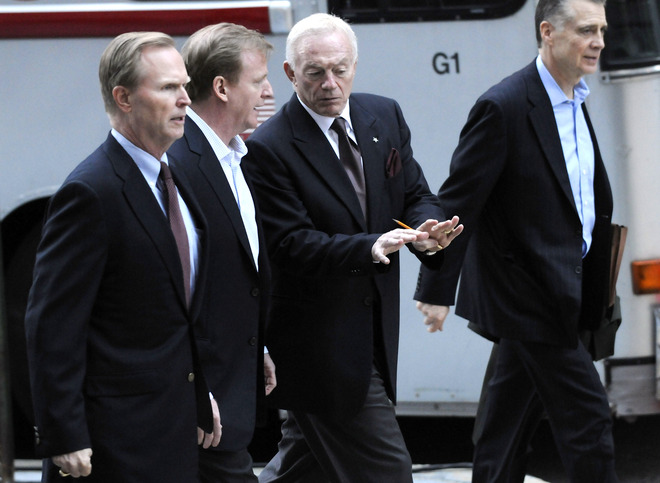 First of all, I want everyone to know that I'm all for owners of businesses making as much money as they can make. Private businesses employ most of the countries workers and I believe we should be thankful to business owners for taking the risks involved in establishing a business.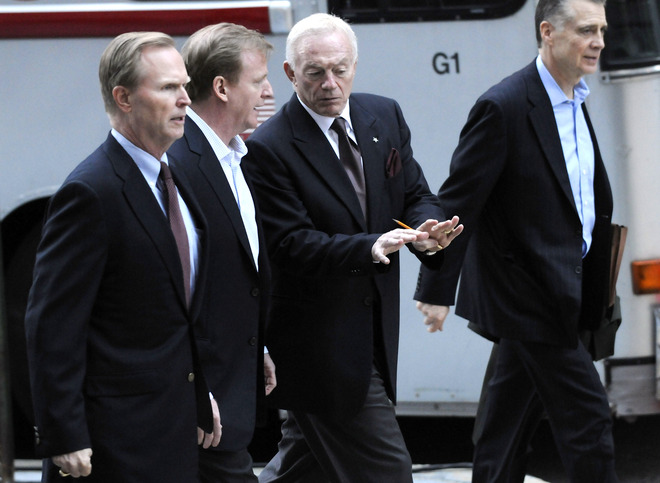 Anybody who has been an entrepreneur knows that it's not an easy thing to do. I respect the NFL owners from that perspective. Many of them have laid everything on the line to get to financial position they're in. Most of them are very wealthy people because they did what it took to amass millions until they were billionaires.
Still I think we need to stepback and assess where we're at in these battle between NFL owners and NFL players. The NFL isn't like other businesses because the NFL draft and other aspects of the NFL owner/player relationships violate U.S. anti-trust laws.
Anybody who knows anything about the laws governing monopolies in the U.S. knows that the NFL draft which takes away a player's right to work for whoever and wherever they want isn't in line with the U.S. Constitution. violates U.S. anti-trust legislation. When a football player comes out of college or for that matter before he goes to college he has the right to work for any business that is willing to hire him.
When young accountants, attorneys, doctors graduate from school they have the choice to work for any company in any part of the country that is willing to hire them. This is the freedom that the U.S. constitution gives us. On the other hand a young football player must go to the team which drafts him which is a violation of his constitutional rights.
Through the Collective Bargaining Agreement, NFL players agree to relinquish those rights. They don't give them up for no reason,
they give them up for a promise the NFL owners will honor the Collective Bargaining Agreement.
The fact that the NFL owners signed a CBA in 2006 yet went on to violate it by scheming with the television networks to lockout the players, I can't sympathize with them.
I don't think U.S. District Court Judge David Doty is going to sympathize with them. What is about Doty and his siding with the players that the owners don't understand? He's ruled against them every time they've come into his courtroom.
He not only sided with the players concerning the $4 billion dollar war chest, which the owners were going to acquire from the networks he talked about the owners damaging the players with their violation of the CBA they had signed in 2006.
How much are damages when you're talking about a $9 billion dollar-a-year business? If I was an NFL owner I wouldn't want to know.
How could the owners be foolish enough to have meetings on putting together a lockout, yet not believe the Judge was going to find out about it? This was foolish and wiser heads should have prevailed but they didn't. I'm starting to think that some of the owners aren't good business people.
Now they have hired highly regarded attorney David Boies to represent them. He's supposed to be a great attorney, but I think he's got a bad case with a bad client. He may be a great attorney but remember he lost the election vote case when he represented former Vice-President Al Gore against former President George Bush.
The owners cry that they're hurting financially because of the CBA which they signed in 2006, yet they're not willing to open their books. They're asking the players to trust them. Here you have a group of owners who have already proven that they're not trustworthy, yet they want the players to give back money without seeing the books.
DeMaurice Smith would have been fired on the spot for giving money back to the owners without seeing the books. Some players are uneducated but not all of them.
Understand that the NFL is making more money that it ever has, yet with a straight face the owners say they're hurting financially. Don't forget that the NFL isn't like other businesses, if they aren't protected from anti-trust laws, their empires could be in trouble.
I think it's foolish to put all of that on the line.