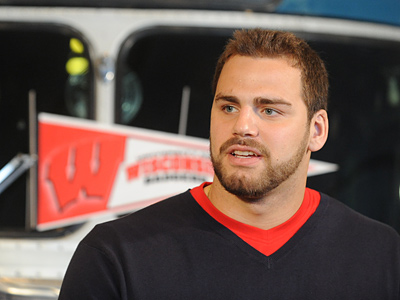 At this point in the lead up to the draft, I see the Philadelphia Eagles grabbing one of four players. It will be Wisconsin tackle Gabe Carimi, Florida guard Mike Pouncey, Boston College tackle Anthony Castonzo or Colorado tackle Nate Solder.
I have Carimi and Pouncey slightly ahead of the other two and I think the Birds will have a great shot at them.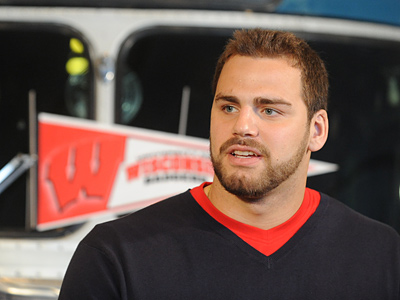 The Birds are in the #23 spot, so that means waiting to see who the Patriots, Giants and Colts will grab because they could use help on their offensive lines as well.
All of these guys is ready to step in and play right now, and that's what the Birds need. They're probably more desperate at the right guard position, but they would probably love to grab somebody who can play both of those positions.
Offensive tackle Tyron Smith of USC will become a part of this group if he recovers well from the arthroscopic surgery he had on his knee. If he works out well at his Pro Day, he could become the number one tackle and be selected first amongst this group. If there continues to be a problem with his knee, he may fall out of the first round.
If he works out well and the knee checks out fine then the Eagles will assured of getting Carimi or Pouncey.
This isn't a bad bunch to choose from even though there isn't a stand out tackle who towers over the rest of the group. Carimi, Pouncey, Castonzo and Solder are amongst a batch of solid offensive linemen who should all be able to play for a good number of years in the NFL.
Carimi strikes me as a pounder who might want to mix it up more than the other two tackles. I see him developing into the best run blocker of the group, but that's not so important around here for obvious reasons. The Wisconsin Badger played some guard at the Senior Bowl which is a plus because the Birds want versatility.
With his size, arm length and athleticism he would have no problem moving into guard. He's got the strength to take on the bull rushes, that are prevalent inside. I think he would love it inside, but he will eventually play the tackle position.
He would alleviate some of the problems on the right side of the offensive line and add immediate depth at right guard and tackle.
They would probably start him out at guard and keep him there depending on how Winston Justice was playing at tackle.
Pouncey is a tremendous athlete, who has good quick feet, excellent body control and he can run. He's a very good pass blocker with solid technique and he can get physical when he needs to. I love his quickness and aggressiveness in both the running and passing game.
I could see him out in front of LeSean McCoy on the screens the Eagles love to run. Pouncey is also very good on those quick hitters up the middle because he gets on a lineman quickly with power. He'll get bigger as he ages, but he's already 300 plus pounds so I don't see him having any trouble strength-wise when dealing with defensive tackles.
The Florida Gator can play center or guard, so he's got some versatility. He's a bright young man who will pick up the blocking scheme quickly, so he'll add depth immediately by being able to play center or guard.
Castonzo is a tremendous technician, who is very consistent as a pass blocker. I like his technique and use of his hands. He is quick to get his hands on the pass rusher, so he can use those long arms to keep under control.
The former Boston College standout does a good job of moving his feet and staying in good position. He's patient and doesn't try to kill the pass rusher, which is a vulnerability of young offensive tackles.
He's got to get lower and do a better job of staying under control as a run blocker. I don't see him finishing blocks. The youngster has trouble blocking quick linebackers who are lined up off the ball, which isn't a surprise.
Solder is a very good athelte, but he's going to need to be when he has to block some of these ends who rush the passer an inch off of the ground. At 6'8″ he will need to bend while moving his feet to stay in front of all Dwight Freeney-style pass rushers in the league. He seems to be natural as a knee-bender, but I saw him have some trouble on the tape with those low to the ground pass
rushers.
He doesn't finish blocks like Carimi, but I do some some aggressiveness in him that I like. I like his solid techniques and his ability to move his feet and use his long arms, still the bending could be a problem.
I feel the Birds will be fortunate to get either Carimi or Pouncey. They're virtually can't miss guys who each could play two positions. I would probably give the edge to Pouncey, not because of the two as players, but the Eagles could use Carimi's ability to be a dominating run blockers isn't going to be maximized here, whereas Pouncey's athletic ability will be utilized here with the way they love to run screens.