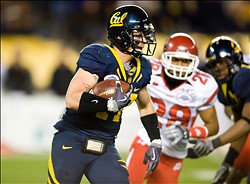 The Eagles are serious about upgrading their secondary this season, and are working out another player that they hope can help them do it.
According to Aaron Wilson of National Football Post, the Eagles are scheduled to work out California safety Christopher Conte. Conte is projected as a late round draft pick, but he is climbing the boards of many scouts. Conte has some height as he stands at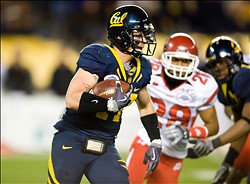 6'2, but the former cornerback is ranked as only the 19th safety in the draft.
The Eagles have shown they are interested in upgrading the secondary in the draft, as they have worked out more players in the secondary then any other position.
But the status of the secondary will hinge on the Eagles decision of whether or not to resign Quintin Mikell this off-season.
Mikell has had an up and down career with the Eagles so far, going from special teams ace, to underrated talent, to overrated and expendable. Now, going into free agency, the question of whether or not Mikell should be resigned is a big one the Eagles have yet to make.
Statistically, Mikell had an average year at best. He finished the season with 88 tackles and only 1 sack. His 3 interceptions left him tied for 13th among safeties, and even with Nate Allen, the rookie free safety. It also matched his career high. The knock on Mikell last season was his inability to capitalize on turnover opportunities. Eagles fans are probably still yelling at Mikell to find the ball as
it sat in his lap against the Green Bay Packers in the playoffs.
Mikell is going to be 31 if and when the season starts on schedule in September, and the Eagles reluctance to hand out contracts to players over 30 has been well-documented, but if the Eagles let the Mikell walk, it will leave them extremely thin and young at safety.
Kurt Coleman played well at times when he stepped in to play for the injured Allen, but he also had his worst game in a must win over Minnesota. Coleman can play either safety position, which means he and Allen could start together. Allen is still recovering from a knee injury, but he is expected to be ready for the beginning of the season. Colt Anderson got a surprising amount of playing time after being signed late in the season, but he is nothing more then a backup player.
It is very important with a new defensive coordinator in Juan Castillo that Nate Allen is ready to go at the start of training camp to learn the new defensive schemes. If he is not, he will be playing from behind from the start. Its one thing to learn the playbook- it's another for a second year player to get out there and learn the defense.
Mikell is a veteran that should be able to learn any new defensive schemes quickly. He also has shown he is willing to work with young players and help them along. He is a locker room guy, and a leader on the defense that severely lacks quality leadership. If things start to go sour with Castillo, it will be important to have a veteran player to keep the younger players in line.
There is hope the Eagles can sign a big name cornerback to replace Dmitri Patterson, or draft one high in the first round. But the chances of the Eagles landing a big name free agent or draft pick to play safety is slim, making resigning Mikell even more important.