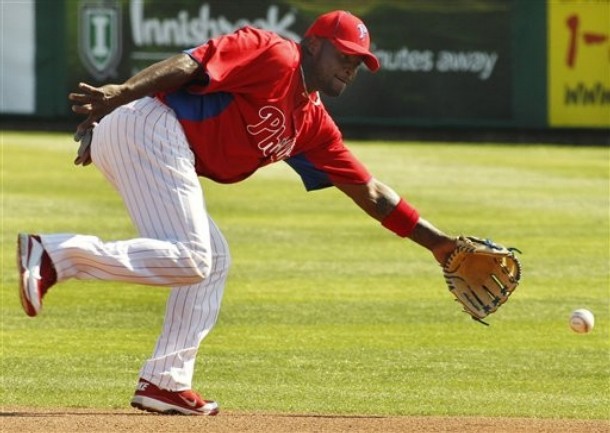 With a ticket to this week's Phillies-Pirates on-deck series going for as little as 89 cents, it's hard to argue that these games are must see. The games are baseball's equivalent to the 4th preseason game in football-but even little less important. But this city has been waiting for baseball to resume at Citizen's Bank Park since Cliff Lee signed the dotted line, so for the fans that will be heading down to the ballpark, here are some things to look for.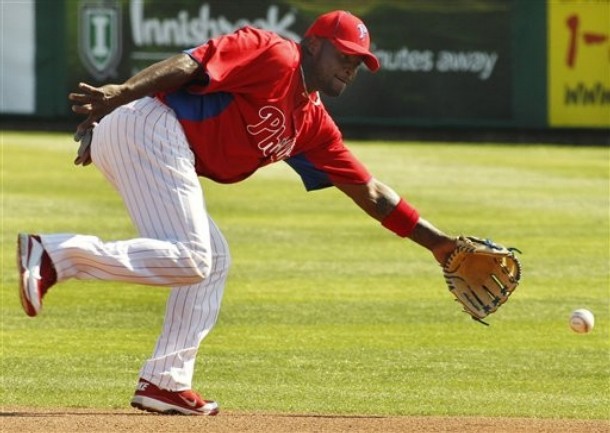 Luis Castillo: Since arriving in Clearwater- all be it a day late-Luis Castillo has been partaking in an 8 day try out to make the club. Rueben Amaro Jr was clear when he said that it is the big leagues or bust for Castillo. Castillo has been impressive in his short stint, overcoming a slow start to reach base 6 of 8 times going into Monday's game.
Castillo kept it going against the Astros on Monday, going 1 for 1 with a walk and run scored. Castillo has not had many chances to show what he can do on defense, as not many hard hit balls have come his way, but he has not made any errors. Some people believe that Castillo has secured a place on the team, but the pressure will still be on him these last two games to make it official.
With Ross Gload, Wilson Valdez and John Mayberry Jr all locks to make the team, it is between Castillo, Dwelyn Young and Michael Martinez for the final two roster spots. These last two games will play a major factor in who lines up with the rest of the team on opening day.
Cole Hamels: It is only spring training, but the "Four Aces" have been more like 2 and a half aces so far. Roy
Halladay has an un-human like ERA of .42, while Cliff Lee and Roy Oswalt have been up and down with ERA's of just under 5. But Cole Hamels has struggled in his last few starts, pushing his ERA to 6.75.
Hamels came into spring training in great shape, and was deemed ready to start a game on day 1 by Rich Dubee. But Hamels clearly has more work to do since, as he has given up more home runs then any other pitcher this spring, surrendering 5 long balls. Hamels also has given up the 2nd most hits on the team (26), second only to Joe Blanton.
He has also struggled with his accuracy, walking 8 batters this spring, most on the team. Matt Gelb of the Philadelphia Inquirer recently noted that Hamels spring training ERA has never been under 5, and has been over 6 4 of 5 years. Hamels does not usually start seasons off well, which should not be a surprise given his struggles in spring. Hamels should pitch in Wednesday's game against the Pirates. It is important for Hamels to start the turn around now, and have a strong outing.

HD Scoreboard: The Phillies spent big this off-season, and not only on the roster. Fans that go to the On-Deck series will be some of the first to see the new High-Definition scoreboard. The scoreboard cost over 10 million dollars, is over 76 feet high, and over 7,000 square feet.
Lineup: Charlie Manuel has some serious thinking to before he turns in his lineup card on April 1rst. The only spots that are written in pen are Ryan Howard 4th, Carlos Ruiz 8th, and Roy Halladay in 9th. Other then that, everyone else is guessing when it comes to the lineup. Manuel has said numerous times that he sees Jimmy Rollins as a lead off hitter, but Rollins has batted in multiple spots this spring.
Shane Victorino is likely to bat 2nd, but who bats behind him is also unknown. Both Raul Ibanez and Placido Polanco have batted third this spring, but with Polanco hurt, it is unknown if he will even be ready for opening day. Fans could even see Wilson Valdez trot out there third. The question of who will bat behind Howard is a key one to this season. Ibanez could fill that role, but don't be surprised to see Ben Francisco bat 5th after the power he's shown this spring. It is a confusing, important question for the Phillies and Charlie Manuel to figure out. We could see what Charlie has in mind this week against the Pirates.
Bullpen: Brad Lidge will most likely start the season on the disabled list, throwing the Phillies bullpen into mass confusion. Ryan Madson and Jose Contreras will be up for the job of closer now. Madson has shown he is shaken by the idea of closing out a game, and is much better suited for a set up role. But Madson's stuff cannot be denied, and it is better then what
Contreras has.
It is in both Madson and the Phillies interest for Madson to get over the mental block and learn to close games, as he is a free agent after this season. Madson knows the big money is in closing, and the Phillies need someone to replace Lidge. Contreras has been closing in place of Lidge since he went down, but Manuel has not named anyone his closer for opening day. Regardless of the score, it will be interesting to see who trots out of the Phillies bull pen in this 9th this week.