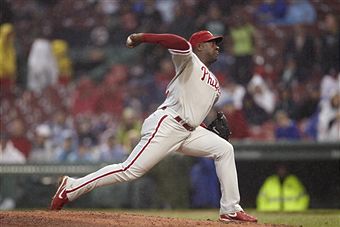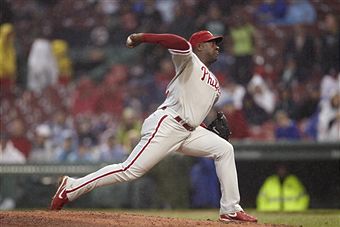 We all had a sneaky suspension that Brad Lidge wasn't going to be available when the season started and we were right. Something didn't smell right. Now we find out he has a partially torn rotator cuff.
Times I wonder whether we should even listen to what Lidge or the Phillies say when a player is injured. Remember when he was saying he was fine during most of the spring training. He couldn't throw a fast ball in or near the 90's, but he said he was fine.
All of sudden we found out he had tendinitis in his bicep, then a week or two later he admitted that he was feeling pain in his shoulder all along.
It's official now the Phils will start the season with Jose Contreras as their closer and Ryan Madson will stay where he is as a setup man. Brad Lidge will be put on the shelf for three to six weeks and who knows what will happen after that.
Phillies manager Charlie Manuel said Contreras will be his guy: "Right now, if I had to pick someone tonight, it'd be [Jose] Contreras." That means it won't be Ryan Madson.
*Ben Francisco is the starting right fielder, Manuel said, and it doesn't seem like it's going to be a platoon. Manuel said Francisco has never had 450 at-bats in a season before, "and now he's going to get that chance."
Now Phillies GM Ruben Amaro Jr. tells us the whole story. "We knew there was something going on in there, but on the brighter side, at least it's not something that needs to be surgically repaired," Amaro said.
"We're glad it's not a labrum. That's on the bright side of things, but it's still significant."
I wouldn't count on seeing Lidge until the middle of the season. Check out how he talks about not throwing for a month and a half then gradually working his way back into things.
"Best case is between three-to-six weeks to not throw at all," Lidge said. "Then you've got to build up just as much on the other side, however long it takes. I'm thinking in my mind I've got to be back for the second half and have a real good second half, make sure I'm stronger than before. Not just where I was, but stronger. It's a partial tear of the rotator cuff. If it was in the labrum, that's game over, out for the season. The rotator cuff doesn't have to be. … It's still a crappy feeling."
I hope the 39-year old Contreras is on top of his game. I know he pitched well in the closing chances he's had, but this dude is 39-years old. How long can he continue? We've got all these great starters, but the season could be resting on the arm of a 39-year old who quite a few baseball people thought was washed up.
If Contreras can't get the job done, we are going to have some major problems because that would mean trying Madson there again and who knows how that would turn out.
Francisco has been knocking the cover off the ball, so I can understand how Manuel decided to let him be the guy in right field.