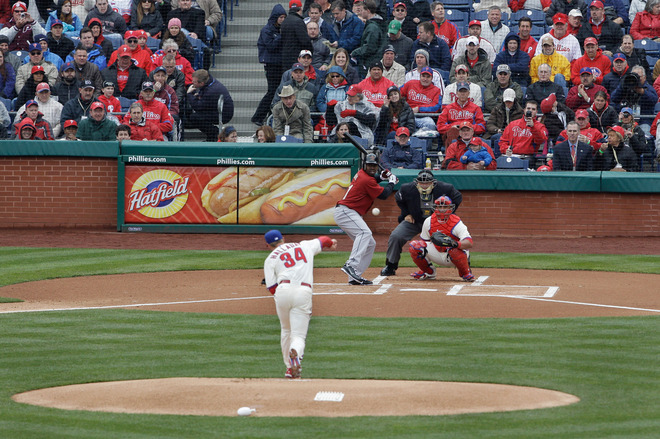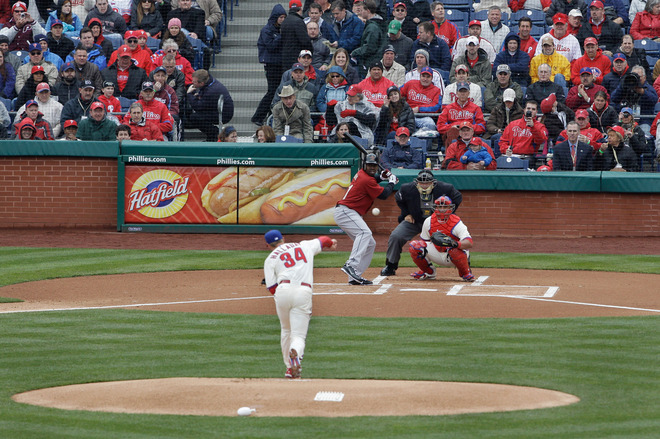 Roy Halladay's first start of the season wasn't a bad one. He went six innings, gave up five hits, and allowed one run to score. However, Halladay's pitch count quickly went over 100 pitches before the 6th inning was over. He made quick work of the Astros through the first three innings, but labored through his final three innings of work.
Even though Hallday's start was a good one, there was a critical problem with it: it meant the Phillies bullpen would be called upon to pitch three innings instead of just two.
The Phillies are short on reliable arms in the bullpen with Brad Lidge on the disabled list, and Chad Durbin now a member of the Cleveland Indians. Ryan Madson and Jose Contreras are the only relievers of proven quality left in the bullpen to start the season. Contreras would normally handle the 7th inning duties, but for the time being he'll be saved for the 9th inning.
Because Halladay only lasted six innings, J.C. Romero and David Herndon were forced to enter the game in the 7th inning to try to keep the deficit at 1-0. Romero only faced one batter, and gave up a base hit to Brett Wallace. Herndon replaced Romero, and gave up
a hit to Humberto Quintero, and a triple to Michael Bourn. The two relievers combined to give three runs in the inning, putting the Phillies in a 4-0 hole late in the game.
The Phillies offense is weak right now. Wilson Valdez is playing everyday for Chase Utley, Placido Polanco is playing through an elbow injury, and Jimmy Rollins is adjusting to his current role as the three hole hitter. The offense in its current state is going to struggle to
score more than three or four runs a game. Luckily for the Phillies, the offense was able to find a way to rally in the 7th and 9th innings to pull out a victory.
Until the offense is able to really settle in and become consistent, the Phillies starters will have to carry them. If the starters aren't able to last at least seven innings, they'll put the game in the hands of a very thin and questionable bullpen. Halladay wasn't able to go more than six innings in his first start of the season, and an early appearance from the bullpen nearly cost the Phillies the game. The Phillies got lucky, and came out of their first game with a win. However, it's important in the future that the starters make it through seven innings to give this team its best chance to win.