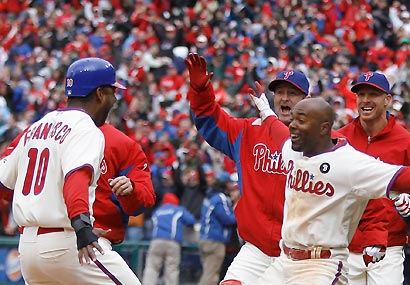 That was a great way to win the game, especially with Ben Francisco and John Mayberry coming through with the game on the line. The Phils are going to need major contributions from both Francisco and Mayberry, if they're going to win as often as everybody is expecting.
The ninth inning rally began with Jimmy Rollins singling to right. I know everybody was frustrated on Jimmy's first at bat when he went up there and swung at the first pitch. As the game went along, Jimmy seemed to do a much better job of being selective about the pitches which he swung at.
Ryan Howard had a good at day at the plate. He hit the ball hard and he wasn't swinging at balls. I had expected Myers to throw him nothing but breaking pitches, but Howard was disciplined up there.
That RBI fly ball to centerfield by Howard in the 7th inning was also an important at bat. They were down by four and needed to score. It would have been a home run if he hits the ball like that later in the year, when it's hot.
Back to the ninth inning, after Howard's single Raul Ibanez popped in the infield which could have been a rally-killer if Francisco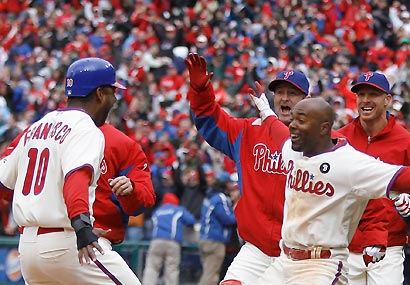 doesn't come up and have a good at bat.
The Phillies outfielder did a good job of just trying to hit the ball hard. He started out the at bat by being patient then hit a breaking ball which seemed to hang up there in his eyes. Francisco didn't pull his head out of there, but stayed on the ball and drove it into the outfield.
During his at bat, Rollins stole third which would have been a disaster had he been caught. It was aggressive baseball, but he was taking a major chance.
I think we're past being surprised by Carlos Ruiz coming through in a clutch situation. He had two strikes him and nearly tied the game up with a liner down the leftfield line. He waited for a good pitch and lined it into leftfield.
I must admit I was surprised by Wilson Valdez and his success at the plate. When he got a hit, I figured it was over for the Astros. To be totally honest, Brandon Lyon threw a terrible pitch to Valdez. It was a high fastball, which seemed to be saying hit me.
Mayberry came up there knowing that all he had to do was hit the ball hard into the outfield and that's what he did. Lyon was trying to jam him and get him to hit a weak ground ball or pop up in the infield. Mayberry waited and got a pitch on the middle to outside part of the plate and he drove it. The tall outfielder's arm length made it easy for him to reach the pitch.
In the future, Francisco will needs to do a better job out there in rightfield. He's drifting on the fly balls which will always become a serious problem, when that wind is blowing like that. He's got to run to a where he feels the ball is going to land and not do so much drifting.
The key in the ninth inning was the fact that they were disciplined and focused on hitting the ball hard while swinging only at strikes. Nobody was up there trying to hit a home run. They wanted to make sure they were swinging at strikes.