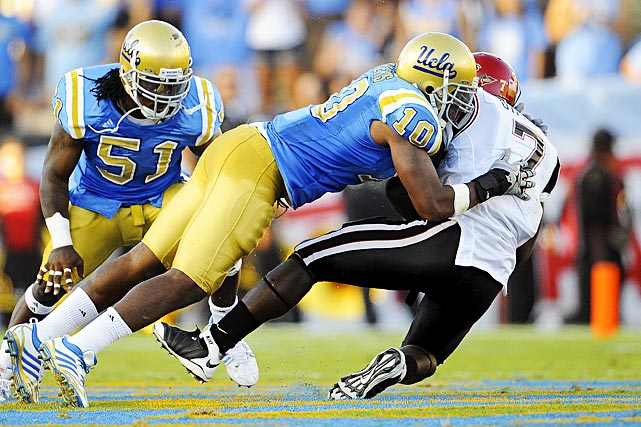 Could somebody please explain to me why the Eagles are having UCLA linebacker Akeem Ayers visit the Nova Care Complex? He's expected to be drafted in the first round. You and I know that the only way the Eagles would draft a linebacker in the first round, they would have to be forced at gunpoint and would still resist it.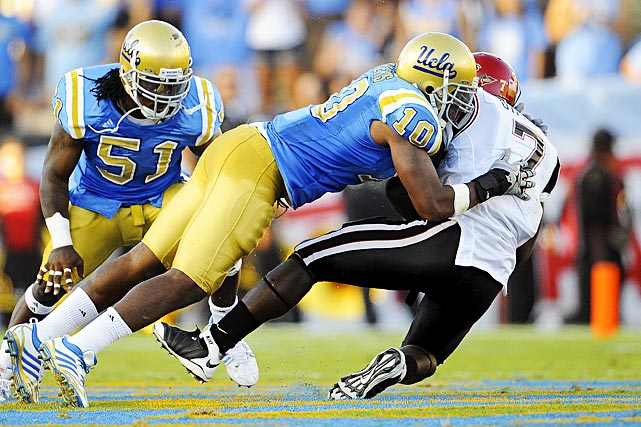 Ayers is a big, playmaking linebacker who stands 6'3″ and weighs 254 pounds. You know the Eagles like undersized linebackers.
Still, Aaron Wilson of NationalFootballPost.com reports that Ayers is headed to the Nova Care Complex this week. I think this young man is wasting his time paying the Birds a visit.
Ayers is highly regarded by quite a few teams that have a good track record for drafting good defensive players, but he ran a bad 40-yard dash at the NFL Combine. He had run a 4.84 at the combine, but has improved it to 4.69.
He's very impressive on tape is a dynamic playmaker when you watch him in action.
He threw 225 pounds up 22 times in the bench press and showed tremendous explosiveness by jumping 34.5″ on the vertical jump.
He supposedly has a total of 10 visits, which includes the San Diego Chargers, Tampa Bay Buccaneers, Baltimore Ravens, New York Giants, New England Patriots, New York Jets and the Kansas City Chiefs. If you add the Eagles that's eight of them.
These other teams will draft a linebacker in the first round, so I ask again, why are the Eagles wasting his time and their own by inviting him to the Nova Care Complex.