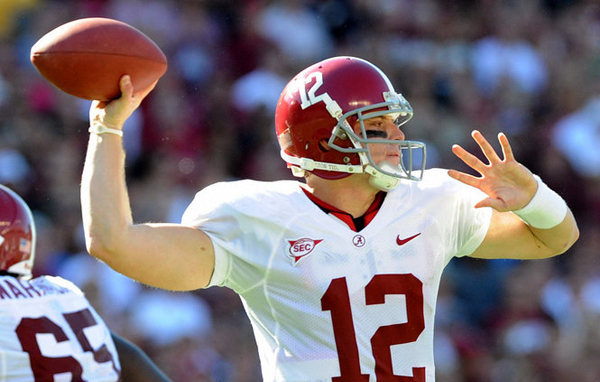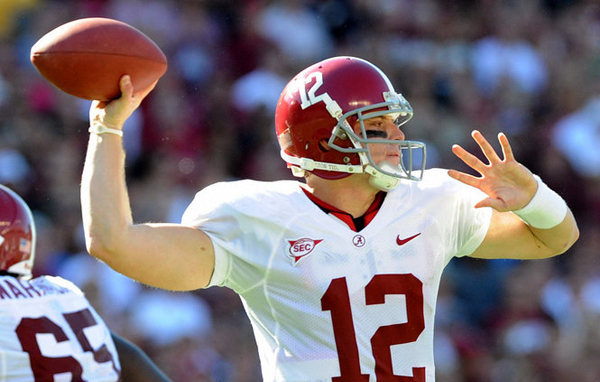 Aaron Wilson of National Football Post reports that Alabama quarterback Greg McElroy is scheduled for a private workout with the Eagles. He joins the list of quarterbacks the Birds have taken a closer look at: Nevada's Colin Kaepernick, TCU's Andy Dalton and Virginia Tech's Tyrod Taylor.
There's not a quarterback in the draft more prepared for the NFL from a mental standpoint than McElroy. The Rhodes Scholar candidate knows how to identify NFL pass coverages and he already has a thorough understanding of NFL play calling terminology, yet only one team, the Seattle Seahawks, showed up for his Pro Day in Tuscaloosa this past week.
His preparation for the NFL game is probably what attracts the Birds, but there are questions about whether McElroy has an NFL arm. I think he does and could see him being a valuable backup quarterback for a good football team. He's the kind of youngster who will be able to come in here and play right away of he's needed.
I think he could see him flourishing in the right system with big-time talent around him. He's a decent athlete for a quarterback, but pales against the likes of Cam Newton and Blaine Gabbert. The young man stands almost 6'2″ and weighs about 220 pounds.
McElroy led the Crimson Tide to a National Championship in 2009 yet only one team, the Seattle Seahawks. The young man's career record with the Crimson Tide was 24-3, and he threw for 5,691 yards during that time with 39 touchdowns and 10 interceptions in 35 games.
McElroy is an accurate thrower, who completed over 70 percent of his passes during his senior year, while throwing for 20 touchdowns and five interceptions. He doesn't make a lot of mistakes and finds ways to win. The youngster doesn't have the talent to carry a football team, but has shown that he can get the ball to playmakers and come through in the clutch with big games on the line.
He's expected to go in the fifth, sixth or seventh rounds. I couldn't see the Eagles taking him any sooner than the fifth round.
The Giants and Cowboys are also taking a look at him.