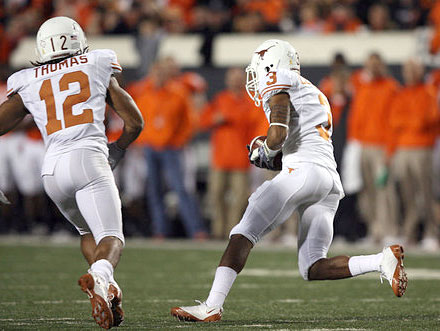 You and I know that cornerback is a position of need and will be addressed early by the Eagles, so it was no surprise when Adam Caplan of FoxSports.com reported that the Eagles had worked out Texas cornerback Curtis Brown.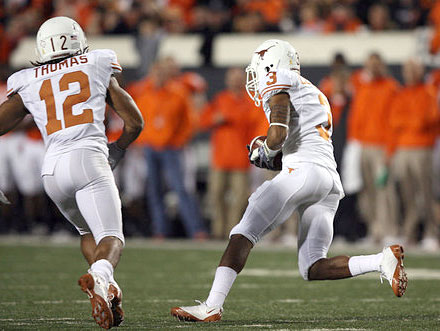 Brown obviously caught the Eagles eye at the Combine. He stands 6′ and weighs 185 pounds. The Longhorn ran a 4.51 at the forty-yard dash. He jumped 10'8″ in the broad jump and leaped 39″ inches in a vertical jump.
He's got quick feet with good speed, but not elite speed. He can run with average to good receivers, but he'll have trouble with some of the blazers in the NFL.
Brown did a good job at Texas of covering man-to-man. He showed ability to run with and mirror receivers all over the field and he does a nice job of attacking the ball in the air. He can cover wide receivers by moving up in their face or playing off of them.
The young corner got good hands and plays the ball well in the air.
He also returns punts, which adds to his value.
Brown will there for the Birds in the second or third round, so it makes sense that they would take a closer look.
He's not the Eagles first, second or third choice at the cornerback position, but he could wind up being a fall back if they don't get what they want in the first or second rounds.