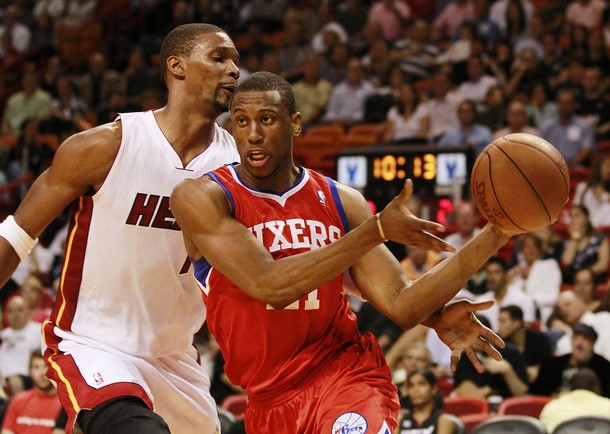 Now that we know for sure that the Sixers are facing the Miami Heat in the first round of the 2011 NBA Playoffs, I thought that it would be a good time to break down some of the key matchups in this best of seven series (I've checked all over and have yet to find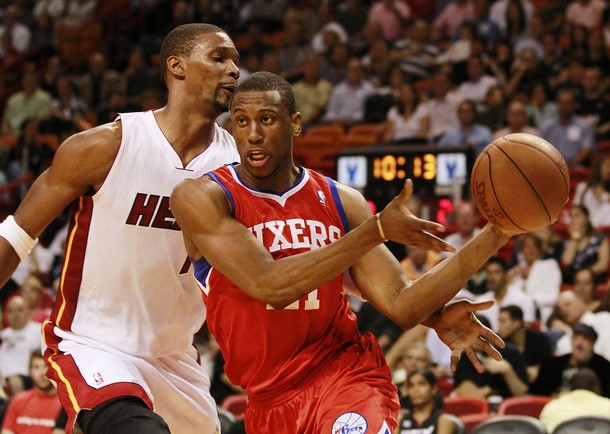 dates and/or times scheduled. I'm guessing Saturday or Sunday).
Today, we'll look at the matchup at the forward spot between LeBron James and Thaddeus Young.
This is the Sixers best counter to the Heat's all-star forward who is having another MVP-caliber season. Young has blossomed under Doug Collins and is the Sixers high-energy reserve.
The pickle here is whether to start Young (the best athlete on the team) to deal with James. This would move Andre Iguodala up to the "two" with the assignment of guarding Dwayne Wade thus bringing starter Jodie Meeks off the bench with hopes that he remains effective. With the status of fellow star reserve Lou Williams unknown, Collins would be running a serious risk to his bench productivity in starting Young, but it gives him his best
chance.
This would relegate the Sixers to a smaller bench prompting Collins to call on veterans Andres Nocioni and Tony Battie who have been getting decent minutes in recent weeks. Collins will almost have to dust of Marresse Speights for some spot duty depending on the situation.
James averaged 22/8/5 against the Sixers in the regular season. Young's assignment is simple: keep James in front of him at all times
– watch for screens and picks and for heaven's sake don't let him or anyone else get anything easy – the no lay-up rule must be enforced.
James may try to post up in a half court set but I don't see him doing it too often. Offensively, expect Young to be active on the glass for putbacks as well as slashing to the basket in hopes of getting James and others into early foul trouble. I
am concerned about the sudden stretches of floor time Young may see, I'm hoping that he is able to pace himself.
James is going to get his at some point in the series, I just feel that Young, (despite giving up 30 lbs. to James) is the best player suited for this task.