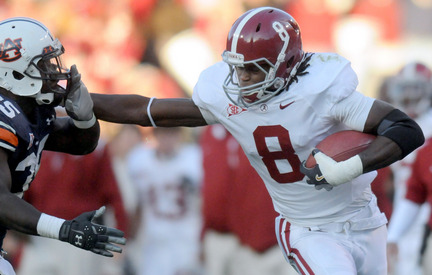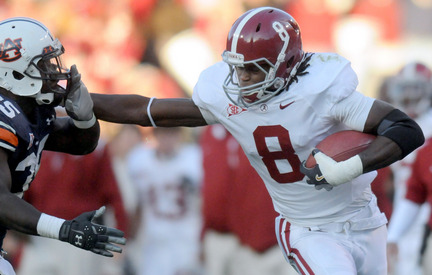 The consensus is at this present time that Cam Newton will be the first pick in the draft. His upside is so out of this world that the Panthers can't draft somebody else and be left wondering, what if.Alabama's Marcell Dareus is expected to go second to the Denver Broncos.
The Bills need a franchise quarterback, so they're expected to grab Blaine Gabbert. The guy has athletic ability close to that of Newton which says a lot.Julio Jones has taken the place of A.J. Green as the best receiver in the draft. We knew he was bigger and stronger, but he's shown himself to be much faster. He gets the "Beast Award" for looking a like a man amongst boys.
Von Miller is considered a sure thing because of his ability, attitude, consistency during college career and work ethic. UNC's Robert Quinn was falling after the NFL Combine, but he regained his momentum after his outstanding Pro Day performance.
Patrick Peterson may wind up being the steal of this draft. Many of the scouts say that Peterson is the safest pick in this draft.
Nick Fairley has an amazing upside, but the fact that he only performed at this level for one full season. Oh boy but did you see how well he played in the one season.
Tyron Smith convinced the Cowboys at his Pro Day that he was the man they wanted. The Skins would love to draft a quarterback, but
after Newton and Gabbert there's not a quarterback in this draft, who rates high enough to select at the 10 spot.
As for the Eagles, I have them grabbing Wisconsin's Gabe Carimi with this pick. He's got the skills to play either guard or tackle. He's big, physical and could step in right away as a starter. I see them using him at guard in his first season. He can always move outside if needed.
GCobb.com Mock Draft #7
1. Carolina Panthers – Cam Newton, QB, Auburn
2. Denver Broncos – Marcell Dareus, DT, Alabama
3. Buffalo Bills – Blaine Gabbert, QB, Missouri
4. Cincinnati Bengals – Julio Jones, WR, Alabama
5. Arizona Cardinals – Von Miller, OLB, Texas A&M
6. Cleveland Browns – Robert Quinn, DE, North Carolina
7. San Francisco 49ers – Patrick Peterson, CB, LSU
8. Tennessee Titans – Nick Fairley, DT, Auburn
9. Dallas Cowboys – Tyron Smith, OT, USC
10. Washington Redskins – A.J. Green, WR, Georgia
11. Houston Texans – Ryan Kerrigan, DE, Purdue
12. Minnesota Vikings – Prince Amukamara, CB, Nebraska
13. Detroit Lions – Muhammad Wilkerson, DE, Temple
14. St. Louis Rams – Jimmy Smith, CB, Colorado
15. Miami Dolphins – Mike Pouncey, C/G, Florida
16. Jacksonville Jaguars – Da'Quan Bowers, DE, Clemson
17, New England Patriots – Mark Ingram, RB, Alabama
18. San Diego Chargers – J.J. Watt, DE, Wisconsin
19. New York Giants – Nate Solder, OT, Colorado
20. Tampa Bay Buccaneers – Aldon Smith, DE, Missouri
21. Kansas City Chiefs – Cameron Jordan, DE, California
22. Indianapolis Colts – Anthony Castonzo, OT, Boston College
23. Philadelphia Eagles – Gabe Carimi, OT, Wisconsin
24. New Orleans Saints – Phil Taylor, NT, Baylor
25. Seattle Seahawks – Jake Locker, QB, Washington
26. Baltimore Ravens – Torrey Smith, WR, Maryland
27. Atlanta Falcons – Jabaal Sheard, DE, Pittsburgh
28. New England Patriots – Cameron Heyward, DE, Ohio State
29. Chicago Bears – Akeem Ayers, OLB, UCLA
30. New York Jets – Adrian Clayburn, DE, Iowa
31. Pittsburgh Steelers – Derek Sherrod, OT, Mississippi State
32. Green Bay Packers – Aaron Williams, CB, Texas