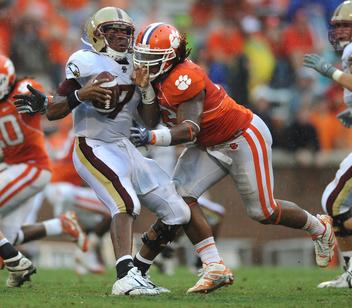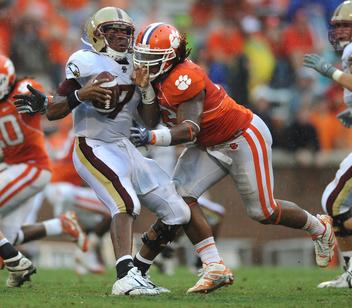 The draft is only two weeks away, so mock drafts are starting to look alike, nobody knows who is going to be the first pick in the draft, but Cam Newton's name is starting to show up in that number one spot more and more. Newton goes first in this one, but there's a possibility that a team desperate to get a franchise quarterback like the Washington Redskins, may move up and try to make a trade with the Panthers to get the chance to select Newton.
Patrick Peterson will go early but the Eagles could go after him if they get chance to trade Kevin Kolb to move into the Top Ten picks.
Da'Quan Bowers is a phenomenal talent, but he had arthroscopic knee surgery just before the NFL Combine, so it took awhile for him to work out for the scouts. It's causing him to slide.
He didn't light up the scouts on his Pro Day, but he's still getting back to full strength after the surgery. It would be hard for the Eagles to pass him by despite their needs at the cornerback position and on the offensive line. The Birds might finally have the type of pass rush that they always dreamed about.
Paulman's Mock Draft #7
#1) Panthers – QB Cam Newton (Watch for a trade with Redskins)
#2) Broncos – DT Marcell Dareus – Alabama
#3) Bills – OLB Von Miller – Texas A&M
#4) Bengals – WR A. J. Green – Georgia
#5) Cardinals – CB Patrick Peterson – LSU (Watch for a trade with Eagles)
#6) Browns – DE Robert Quinn – UNC
#7) 49ers – QB Blaine Gabbert – Missouri
#8) Titans – DT Nick Fairley – Auburn
#9) Cowboys – OT Tyron Smith – USC
#10) Redskins – WR Julio Jones – Alabama
#11) Texans – DE Cameron Jordan – California
#12) Vikings – DT Muhammad Wikerson – Temple
#13) Lions – CB Prince Amukarama – Nebraska
#14) Rams – DE J.J. Watt – Wisconsin
#15) Dolphins – OG Mike Pouncey – Florida
#16) Jaguars – DE Ryan Kerrigan – Purdue
#17) Patriots – DE Cameron Heyward – Ohio State
#18) Chargers – DT Phil Taylor – Baylor
#19) Giants – OT Anthony Costanzo – BC
#20) Bucs – CB Jimmy Smith – Colorado
#21) Chiefs – OT Gabe Carimi – Wisconsin
#22) Colts – OT Nate Solder – Colorado
#23) Eagles – DE Da'Quan Bowers – Clemson
#24) Saints – RB Mark Ingram – Alabama
#25) Seahawks – QB Jake Locker – Washington
#26) Ravens – CB Brandon Harris – Miami
#27) Falcons – DE Aldon Smith – Missouri
#28) Patriots – OL Danny Watkins – Baylor
#29) Bears – OT Derek Sherrod – Miss State
#30) Jets – OLB Justin Houston – Georgia
#31) Steelers – C/G Steve Wisniewski – Penn State
#32) Packers – DT Corey Liguet – Illinois