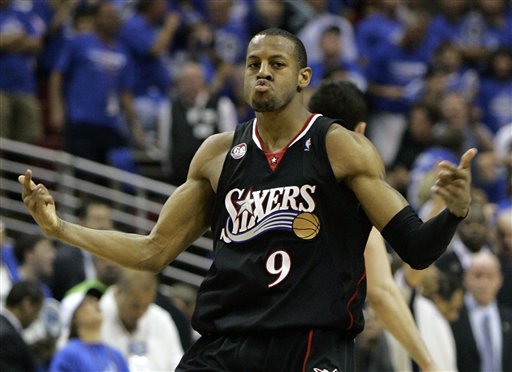 Now that it's official that your team, your town, your Philadelphia 76ers are playing the Miami Heat, it's time to look at a few of the individual match ups. With out disrespecting possibly the most popular member of the "Heatles", LeBron James, the Sixers should choose to put their best defender, Andre Iguodala, on Dwyane Wade.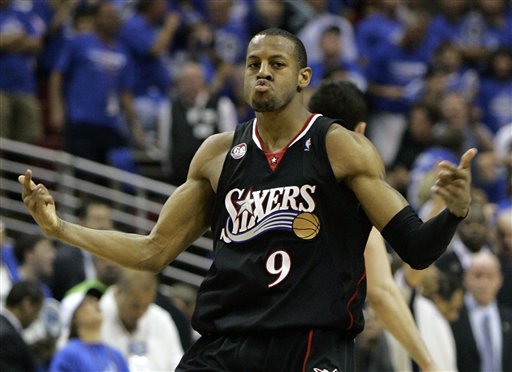 The Sixers and Heat faced each other three times with each game ending the same way, Miami pulling it out at the end. Wade averaged 30.6 points, 8 rebounds, and 6.6 assist during the three games against the 76ers, and almost had a triple double during the most recent game on March 25th.
Iguodala on the other hand wasn't as productive. He averaged 13.3 points, 6.3 rebounds and 4.6 assist. Part of the reason why his numbers were so low is due to his defensive assignments. In almost every game he focused on slowing down James. Iguodala did play good defense on James, however the Sixers should challenge him to slow down Wade instead.
It's kind of a double-edge sword because both Wade and James are capable of taking over a game. But James has proven to be effective even if he's "shutdown" on offense. He is willing to get his teammates involved more than Wade appears to be. So if Iguodala is able to slow Wade down and force Miami's other big name players to pick up his slack, they have a chance.
Nevertheless the Sixers need Iguodala to produce on the offensive end, along with playing lock down defense on Wade. The Sixers are a much better team when Iguodala is having an all around good game, and what better time for Iguodala to step up his game than the playoffs?
It won't be an easy task stopping Wade, because he's one of the best basketball players on the planet. However if Iguodala is able to turn Wade in to a volume shooter rather than allow him to take "good shots", the Sixers will have a chance at stealing a game or two. However if he cannot slow Wade down, it will be a painful series to watch.