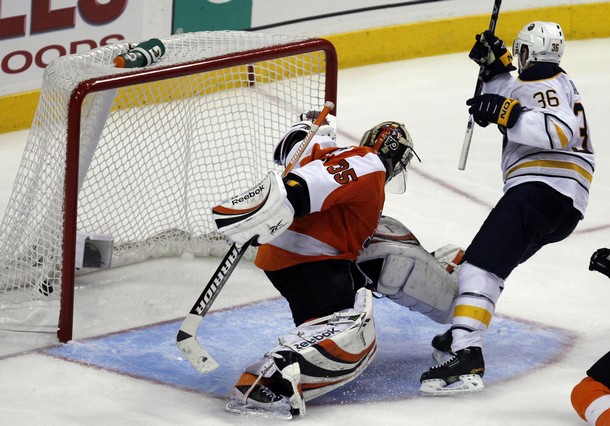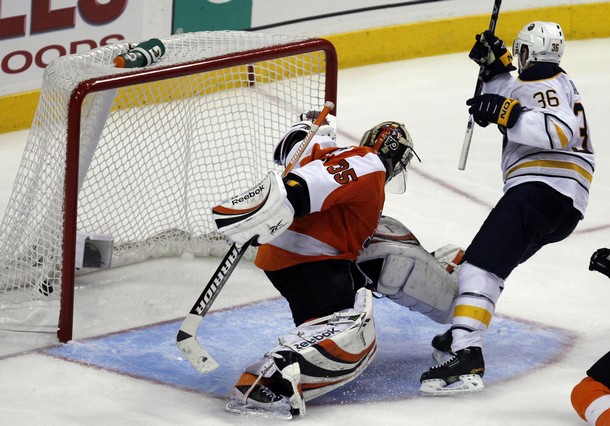 Over the last quarter of the regular season, there were question marks surrounding the Philadelphia Flyers and their commitment to winning. If they weren't sitting comfortably in first place, they were at least bouncing around the top spot for such a long time that people wondered if they would have anything left in the tank for the postseason.
Tonight's game one loss to the Buffalo Sabres was a good indicator that the heart of this team is still committed to hoisting Lord Stanley, even if the scoreboard wasn't in their favor.
"I think a lot of people had questions how we were going to respond after our February and March," said Sean O'Donnell. "Even though we didn't win tonight, I think everybody would agree this is a big difference from the way we played in the last twenty games."
The first question of the game was goaltending. Buffalo's superstar Ryan Miller actually had worse stats than Sergei Bobrovsky when compared head-to-head, but his career record obviously paints him as the better goaltender. He outplayed Bob tonight, stopping all 35 shots he saw, but Bobrovsky carried himself just fine between the pipes. His puck handling behind the net was not the problem his teammates considered it to be halfway through the season.
The team was without the services of veteran playoff machine Chris Pronger, which would probably have helped with the powerplay that went 0-for-5 tonight. It wasn't much of a surprise when it was announced by the organization that he was day-to-day, as his "setback" earlier in the month suggested his wrist issues were worse than people thought.
The team did just fine defensively, though, and was impressive thoughout the game. Both Matt Carle and Danny Syvret received boisterous cheers from the crowd after making similar diving plays to block shots.
The offense wasn't completely anemic, but the general consensus after the game was that the team needs to hammer home second and third chances in front of the net to be successful, similar to how Patrick Kaleta rebounded the game winner off a shot from Paul Gaustad. Miller's calm control over the puck certainly had something to do with those few rebounds, but the team wasn't playing desperate enough in front of the net to get those garbage goals.
There isn't a whole lot to be disappointed about with how the Flyers played tonight, but the team knows it doesn't have much time to correct their problems.
"It's the playoffs," said James Van Riemsdyk. "The margin of error is so small."
The first round of the 2011 NHL playoffs continues on Saturday. For in-game updates and post-game videos, you can follow me on twitter (@JoshJanet).